Load Securement Training

New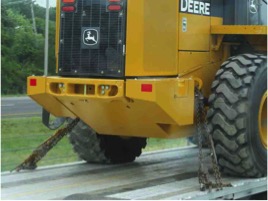 Course Description
Learn how to properly secure heavy equipment and other items to flatbeds and lowboys following the Federal Motor Carrier Safety Administrations Standard 49 CFR 329.9 and 49 CFR 393, Subpart 1.
Topics include;
• Driver responsibilities
• Chain and sling inspection
• Components of a securement system
• Identify Working Load Limits (WLL)
• Proper number of tie-downs
• Indirect and Direct tie-downs
• Protection Against Shifting and Falling Cargo

Special attention will be spent on
• Concrete Pipe
• Automobiles & Light Trucks
• Heavy Machinery & Equipment
• Large Boulders
Target Audience
Workers involved in the loading, unloading and transporting of equipment.
---
Credit Hours
1.0
Road Scholar Credits
0.2
Continuing Education Credits (CEUs)
---
Select A Session
Date
Session Name
Location
There are no sessions of this course currently scheduled.