Elements and Maintenance of Back Road Drainage - Virtual Classroom

New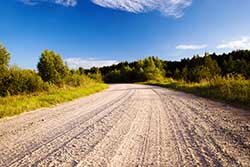 Course Description:
Keeping in mind the challenges associated with Gravel Roads, this virtual class will discuss the various elements in gravel road construction that work together to provide proper drainage and roadway resiliency. The topics include aggregates design for sub-base and surface gravel, Culvert maintenance and installation, and ditch design and maintenance.
Course Outline:
1.) Aggregate layers of roadway structure
2.) Culvert installation and maintenance
3.) Ditch maintenance and treatments
Accommodations for Disabilities: UMTC endeavors to provide an inclusive learning environment for all. If you require special services or arrangements to fully participate in this workshop, please contact Stephanie Cottrell at scottrell@umass.edu or 413-800-2655 as soon as possible to discuss reasonable accommodations for your access needs.
---
Credit Hours
1.0
Road Scholar Credits
0.2
Continuing Education Credits (CEUs)
0
TCH
2
Road Scholar Hours
---
Select A Session
Date
Session Name
Location
There are no sessions of this course currently scheduled.