Stump the Instructor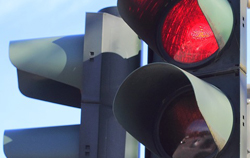 Session 20 - Traffic Signal Basics
This week join Mike and Mike, yup that's right Mike Smith and our very own Michael A. Knodler, Jr. Ph.D, will discuss basic traffic signal information. Mike is our UMTC Director and a Transportation Engineering Professor in the UMass Department of Civil and Environmental Engineering.
Don't have traffic signals? Join us anyway because you might one day need them.
Wednesday, August 5, 2020 • 10:00-11:00 AM
Register in advance for the Traffic Signal Basics session here
After registering, you will receive a confirmation email containing information about joining the meeting.
Upcoming Stump the Instructor sessions:
Session 21 - GIS and GPS apps for your DPW
Session 22 - CDL Do's and Don'ts
Session 23 - UAS? UFO? Or a really cool way to preform DPW inspections and other tasks
Recordings of past Stump the Instructor meetings:
July 29, 2020 - Trench and Excavation Safety
July 22, 2020 - Managing & Leading During a Pandemic
July 15, 2020 - Work Zone Safety
July 8, 2020 - A User's Guide to MS4 Permitting
July 1, 2020 - Let's Talk Culverts: Small Structures With Big Impacts
Let's Talk Culverts Chat Comments
June 24, 2020 - Getting Back to Basics: A Foreman's Perspective
June 17, 2020 - Are You Ready for OSHA?
June 10, 2020 - Top 10 Paving Inspection Items
Top 10 Paving Inspection Chat Comments
June 3, 2020 - Street Trees and Tree Routes
Anne Lusk Presentation; Marc Fournier Presentation; Tom Smiley Presentation
Street Trees and Tree Routes Chat Comments
May 27, 2020 - Pavement Management-The Key to Infrastructure Spending
Pavement Management Presentation
May 20, 2020 - Municipal Culvert Assessment
May 13, 2020 - Concrete Sidewalk ABCs
Concrete Sidewalk Best Practices Handout
May 6, 2020 - Solutions for Pavement Life Extension
Solutions for Pavement Life Extension Presentation
April 29, 2020 - Pedestrian Work Zone Barricades & the MUTCD
Pedestrian Work Zone Barricades & the MUTCD Presentation
April 22, 2020 - Chainsaw Maintenance
Oregon PowerSharp Bar-Mount Chainsaw Sharpening Demo
April 15, 2020 - Construction During COVID-19 with MassDOT Highway Administrator Jonathan Gulliver
April 8, 2020 - COVID-19 Update/Hot-applied, Pourable, Self-adhesive Rigid Asphalt
April 1, 2020 - Gravel Road Maintenance
March 23, 2020 - How Your DPW is Dealing with COVID-19