Stump the Instructor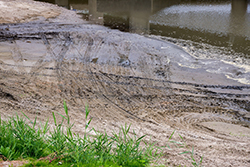 Session 25 - Drainage, Drainage and DRAINAGE
What are three of the most important things in road building? Find out during this session! Join Mike and guests, Todd Eaton, Circuit Rider for Vermont Local Roads, and Butch Leel, Senior Training Instructor at the UNH T2 Center. Here's a clue, three words in the title and three people to talk about them.
Wednesday, September 23, 2020 • 8:00-9:00 AM **Please note our new time**
Register in advance for the Drainage session here
After registering, you will receive a confirmation email containing information about joining the meeting.
Recordings of past Stump the Instructor meetings:
September 16, 2020 - A Storm Is Coming, Get Your Chainsaw Ready
August 26, 2020 - UAS? UFO? or a really cool way to perform DPW inpsections
August 19, 2020 - CDL Do's and Don'ts
August 12, 2020 - GIS and GPS Apps For Your DPW
August 5, 2020 - Traffic Signal Basics
July 29, 2020 - Trench and Excavation Safety
July 22, 2020 - Managing & Leading During a Pandemic
July 15, 2020 - Work Zone Safety
July 8, 2020 - A User's Guide to MS4 Permitting
July 1, 2020 - Let's Talk Culverts: Small Structures With Big Impacts
Let's Talk Culverts Chat Comments
June 24, 2020 - Getting Back to Basics: A Foreman's Perspective
June 17, 2020 - Are You Ready for OSHA?
June 10, 2020 - Top 10 Paving Inspection Items
Top 10 Paving Inspection Chat Comments
June 3, 2020 - Street Trees and Tree Routes
Anne Lusk Presentation; Marc Fournier Presentation; Tom Smiley Presentation
Street Trees and Tree Routes Chat Comments
May 27, 2020 - Pavement Management-The Key to Infrastructure Spending
Pavement Management Presentation
May 20, 2020 - Municipal Culvert Assessment
May 13, 2020 - Concrete Sidewalk ABCs
Concrete Sidewalk Best Practices Handout
May 6, 2020 - Solutions for Pavement Life Extension
Solutions for Pavement Life Extension Presentation
April 29, 2020 - Pedestrian Work Zone Barricades & the MUTCD
Pedestrian Work Zone Barricades & the MUTCD Presentation
April 22, 2020 - Chainsaw Maintenance
Oregon PowerSharp Bar-Mount Chainsaw Sharpening Demo
April 15, 2020 - Construction During COVID-19 with MassDOT Highway Administrator Jonathan Gulliver
April 8, 2020 - COVID-19 Update/Hot-applied, Pourable, Self-adhesive Rigid Asphalt
April 1, 2020 - Gravel Road Maintenance
March 23, 2020 - How Your DPW is Dealing with COVID-19