Stump the Instructor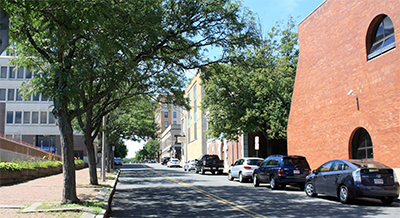 Session 11: Street Trees and Tree Routes: You can't grow if you rip your roots out of the ground.
Join Mike Smith and special guests Tom Smiley, Senior Arboriculture Researcher from the Bartlett Tree Research Lab, Anne Lusk from the Harvard T.H. Chan School of Public Health, and Marc Fournier, Arborist & Horticulturist at Mytoi Japanese Garden, The Trustees of Reservations and Retired Deputy Director of Andover Public Works, for a great discussion on street tree planting. Plant them right so they become part of your city or town's permanent beauty, not an eye sore or hazard needing to be removed. Save time, money and the environment. Trees benefit us all so let's get them growing!
Wednesday, June 3, 2020 • 10:00-11:00 AM
Register in advance for this meeting by clicking here
After registering, you will receive a confirmation email containing information about joining the meeting.
Recordings of past Stump the Instructor meetings:
May 27, 2020 - Pavement Management-The Key to Infrastructure Spending
May 20, 2020 - Municipal Culvert Assessment
May 13, 2020 - Concrete Sidewalk ABCs
Concrete Sidewalk Best Practices Handout
May 6, 2020 - Solutions for Pavement Life Extension
Solutions for Pavement Life Extension Presentation
April 29, 2020 - Pedestrian Work Zone Barricades & the MUTCD
Pedestrian Work Zone Barricades & the MUTCD Presentation
April 22, 2020 - Chainsaw Maintenance
Oregon PowerSharp Bar-Mount Chainsaw Sharpening Demo
April 15, 2020 - Construction During COVID-19 with MassDOT Highway Administrator Jonathan Gulliver
April 8, 2020 - COVID-19 Update/Hot-applied, Pourable, Self-adhesive Rigid Asphalt
April 1, 2020 - Gravel Road Maintenance
March 23, 2020 - How Your DPW is Dealing with COVID-19