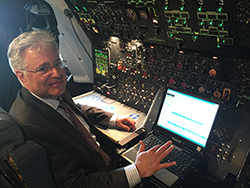 Aviation Program Receives Tour
UMTC Aviation team was treated to a tour of Westover municipal and Air Force airport. Read more.
---
UMTC Acquires New Air Traffic Control Simulator
UFA, Inc., a developer of air traffic control simulation systems based in Burlington, Massachusetts, has delivered an ATTower air traffic control simulator to the Transportation Center. Read more.
UMTC Aviation Research and Training Center at Westover
Plans are underway to expand the UMass Aviation Center's activities at the nearby Westover Air Reserve Base (WARB) and the Westover Metropolitan Airport Complex with the support of a $5 million grant provided to UMass Amherst by the Massachusetts Military Task Force. Without this facility at Westover the Aviation Center will not be able to expand due to the scarcity of space on the Amherst Campus. Over the last 2 years the Aviation Center has secured more than $1 million to conduct research and education activities which to date have been carried out on the Amherst Campus and the UMass Center in downtown Springfield. Other funds will be secured from other State, Federal, industry and foundation sources.

Plans at Westover include the construction of a pre-engineered building to be completed in late 2019.The 65% design phase has recently been completed. Central to the conduct of Aviation Center research and education activities at Westover will be the use of the Buehler Foundation Air Traffic Control (ATC) Simulator. The Buehler Foundation serves as an Aviation Center partner and has provided $500,000 to procure the ATC Simulator which will have 360 degree capabilities and multiple functionalities for advanced research, education, and training purposes. As an initial step toward the full deployment of the 360 degree Simulator, a 180 degree Simulator has been purchased and has been installed on the UMass Amherst campus in Marston Hall (see article below for further details). The 180 degree Simulator will provide UMass Amherst faculty and students a jump start on integrating ATC Simulator capabilities into their research and education activities prior to the full deployment of the 360 degree ATC Simulator at Westover.

The expansion of UMass Aviation Center activities will enable the Center to respond to aviation workforce needs in the northeast region. Recent studies show that job opportunities exist in Massachusetts and other locations in New England in a number of aviation job areas including air traffic control; unmanned aircraft systems research, development, and operations; and aircraft management/maintenance. The UMass Aviation research, education, training and outreach activities are designed to prepare individuals in these job areas. These activities include partnerships with industry (e.g. Raytheon, Greenman Peterson); with other higher education institutions (e.g. Community Colleges); and with local high schools and STEM type Programs (e.g. Westfield Technical Academy, Chicopee/The World is Our Classroom). Other Aviation Center partnerships currently exist with the FAA, Mass DOT, NASA , and Westover Air Reserve Base (WARB) and others are being explored with the Embry Riddle Aeronautical University, Bridgewater State University, U.S. Coast Guard and the Air Force Research Lab at Wright Patterson in collaboration with WARB staff.