Don't miss this exciting opportunity to hear about the latest innovations in transportation. This Innovation webinar series will cover a range of topics related to technology and other innovations, including cross-agency collaborations and partnerships.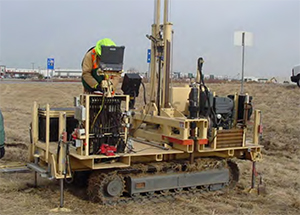 New Tools to Characterize Geotechnical Site Conditions
October 1 • 2:00 – 3:00 pm
This session will discuss the FHWA's Every Day Counts (EDC)-5 effort known as the "A-GaME", which is establishing a new standard for enhanced site characterization. Site characterization plans are required for all MassDOT construction projects, regardless of design status, project type, or project scope. Effective site characterization is critical for recognizing potential problems that may affect design and construction and for ensuring safe, well-performing and cost effective projects. Typical practice involves following minimum standards and using SPT borings at discrete locations, and not using other tools at our disposal such as CPTs, or geophysics televiewers and measurements, while drilling. We can do better than this and bring our A-GaME.
Panelists: Jennifer Rauch & Peter Connors, MassDOT Highway Division; Mary Nodine, GEI Consultants
Click here for more information and to register for the New Tools to Characterize Geotechnical Site Conditions webinar.
OTHER UPCOMING WEBINARS IN THIS SERIES
Please click on the links for more details and to register for each session
MassDOT's New Design Criteria and Design Justification Process • October 6th, 2:00-3:00 pm
Panelists: Jackie DeWolfe, MassDOT Office of the Secretary; Andy Paul & Andrew Wilkins, MassDOT Highway Division
Universities Exploring Community Transportation • October 8th, 2:00-3:00 pm
Panelists: Aniko Laszlo, MBTA; Nina Silverstein, UMass Boston; Cheryl Kiser, Babson College; Sarah McAdoo & Nathan Tabor, UMass Medical School
Capital Improvement Initiative: Cross Functional Collaboration for Project Delivery • October 14th, 3:00-4:00 pm
Small Unmanned Aerial Systems (sUAS) for Wetlands & Storm Control Monitoring • October 15th, 2:00-3:00 pm


COMPLETED WEBINARS IN THIS SERIES



Standards & Design for Stream Crossings & Geomorphic Compatibility
September 24, 2020. Link to session video (no link yet)
This session focused on the latest technical developments in the MassDOT Highway Division's approach to stream crossings and resilient design using the principles of fluvial geomorphology. It also shared experiences that are expected to guide future innovations for providing resilient, cost-effective, habitat-friendly stream crossings in Massachusetts.
Panelists: Tim Dexter & John Pierce, MassDOT Highway Division; Roy Schiff, Milone & MacBroom; Matthew Lundsted, Comprehensive Environmental, Inc.
Managing, Analyzing, & Tracking Materials through LIMMS
September 17, 2020. Link to session video (no link yet) Link to presentation
The Laboratory Information Materials Management System (LIMMS) is a highly efficient software ecosystem, which uses a system of computers, electronic identification tags, and cloud servers to track, manage, analyze materials. LIMMS allows MassDOT to perform data analysis on its construction materials like never before, for the purpose of discovering and modeling useful test data, making informed conclusions, and supporting decision-making. The presentation provided an overview of the LIMMS project timeline from conception to implementation. Global and project functionality were also reviewed including how materials inspection, sampling, and testing is performed in the system. Finally, the LIMMS data an alytics capabilities were also discussed.
Panelists: Richard Mulcahy, Megi Martini, & Alana Geary from the MassDOT Research & Materials Laboratory
MassDOT, MassWildlife, & MassDER: Partnering for Resilient Infrastructure & Ecosystems September 10, 2020. Link to session video Link to Tim Dexter's presentation Link to Carrie Bank's presentation Link to David Paulson's presentation
This session highlighted MassDOT's partnerships with the Division of Fisheries & Wildlife (MassWildlife) and the Division of Ecological Restroration (DER) and showcased recent innovative examples of how disparate agencies can work together towards common goals and the furthering of each other's missions.
Panelists: Tim Dexter, MassDOT Highway Division; David Paulson, MA Dept of Fish & Game, Division of Fisheries & Wildlife (MassWildlife); Carrie Banks, MA Dept of Fish & Game; Division of Ecological Restoration (DER).