Roundabouts Planning and Design Series - Virtual Classroom

New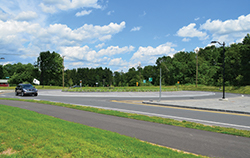 Course Description:
This is a 14 part series on Roundabouts. Everything from planning and stakeholders to design and construction will be covered throughout the series. Each session will be based on chapters from the new MassDOT Guidelines for the Planning and Design of Roundabouts, released in September 2020.
Topics in this series:
1. Introduction to Roundabouts
2. Planning
3. Stakeholder and Public Outreach
4. Analysis
5. Design Overview
6. Design Checks
7. Single-Lane Roundabout Design
8. Design Details
9. People Walking and Biking at Roundabouts
10. Large Vehicles
11. Multilane Roundabouts and Special Considerations
12. Signing and Marking
13. Construction and Operations
14. Simulation
---
Credit Hours
1.0
Road Scholar Credits
0.2
Continuing Education Credits (CEUs)
0
TCH
2
Road Scholar Hours
---
Select A Session
Date
Session Name
Location
There are no sessions of this course currently scheduled.