Online Asphalt Paving 101-MTS

New
Asphalt Paving 101
Whether you're a new worker or a veteran operator following best practices, this course helps you get back to paving basics. This training bring together decades of best practices and top experts in the paving industry, including Paving Consultant and NPE Hall of Fame inductee John Ball, into one comprehensive course to teach you how to pave properly.Training is key to improve safety, uptime and quality on the job site.
This is an ideal tool to give new crew members an overview of the paving process, but it's also a useful refresher of best practices for veteran crew members.
The course includes 8 modules with short, comprehensive, videos, job aids, exercises, and discussion questions. For additional information, see the outline and screen shots that follow.
Introduction
Welcome to Asphalt Paving 101 (3:56)
Module 1
Introduction to Module 1 (1:02)
The Distributor Truck Driver (2:27)
The Haul Truck Driver (3:46)
The Paver Operator (3:27)
On the Job with John: Paver Maintenance Walk Around (6:13)
The Screed Operator (1:45)
The Roller Operator (1:56)
Module 2
Introduction to Module 2 (1:01)
Know Your Job Site Conditions (2:34)
Designate A Process (2:31)
Watch Out for Team Members (2:08)
Know and Maintain Your Equipment (3:41)
Wear Personal Protective Equipment (3:29)
Have an Emergency Action Plan (2:15)
Keep Safety in Mind (1:36)
On the Job with John: Lighting for Nighttime Paving (1:51)
Module 3
Introduction to Module 3 (3:33)
Maintaining the Distributor Truck (3:08)
Maintaining the Haul Truck (2:11)
Maintaining the Paver (6:21)
Maintaining the Roller (2:39)
On the Job with John: Paver Maintenance Walk Around (6:13)
Module 4
Heating Things Up on the Paving Train (6:11)
Module 5
Introduction to Module 5 (1:38)
On the Job with John: Paver Maintenance Walk Around (6:13)
Center Tow Point Cylinders (1:34)
Set the Paving Width (1:44)
Set the Crown on the Main Screed (1:40)
Set the Height and Slope of the Extenders (1:10)
Set the Auger Height (1:14)
Set the Feed Sensors (1:48)
Module 6
How to Build a Takeoff Ramp (2:56)
Module 7
How to Dump the Truck and Fill the Auger Chamber (5:13)
Module 8
How to Determine Fluff Factor and Yield (3:50)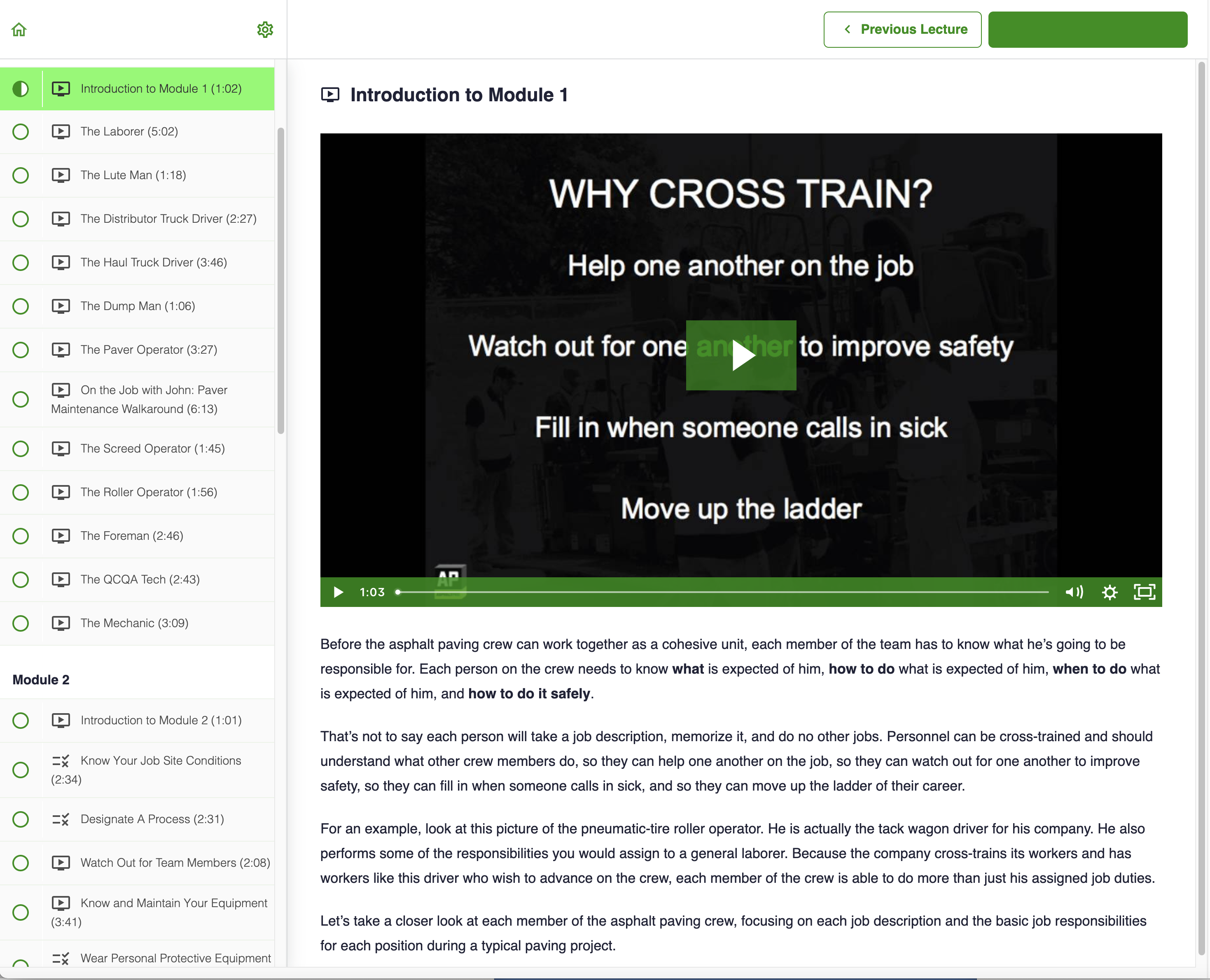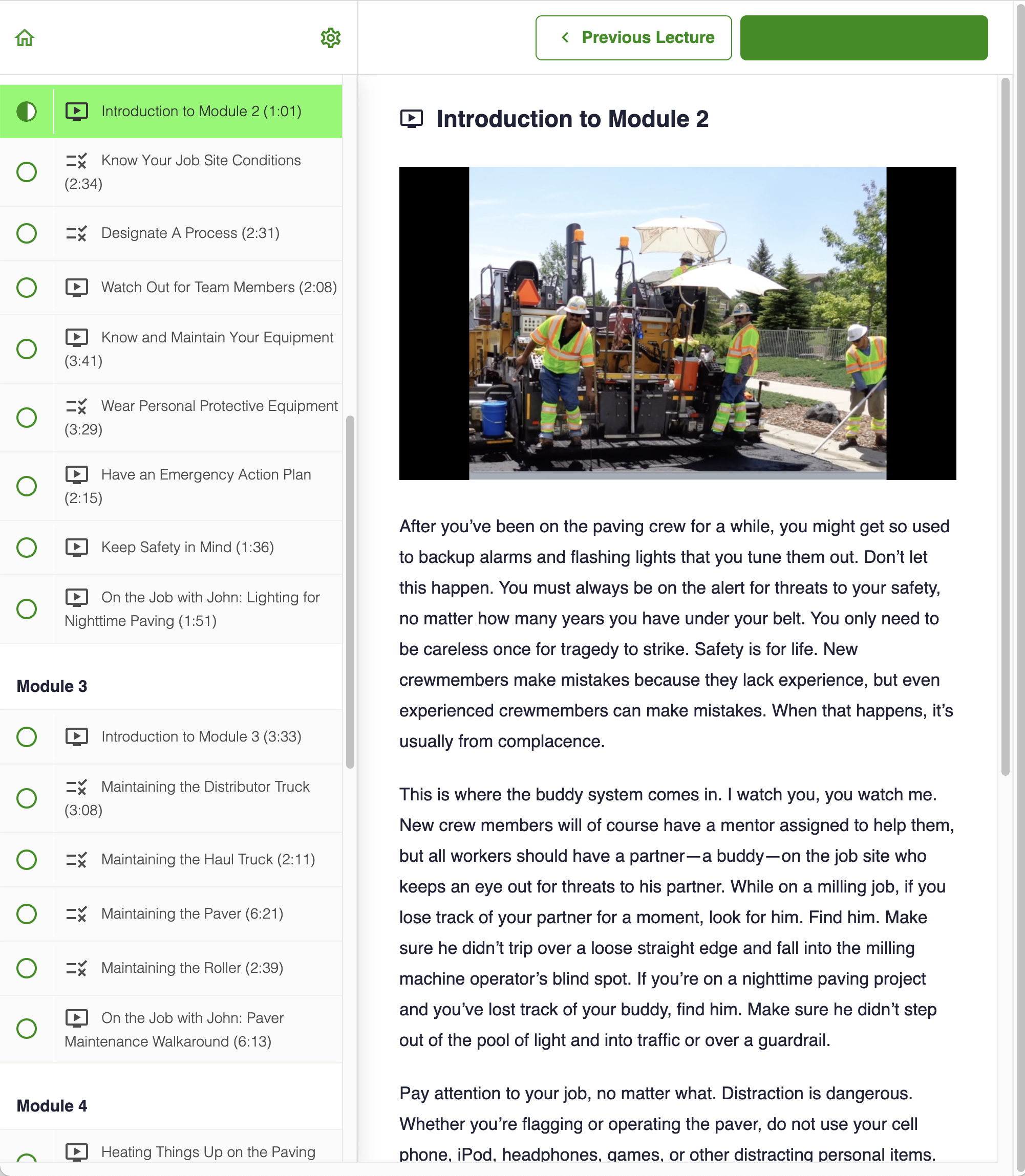 ---
Credit Hours
0
Road Scholar Credits
0
Continuing Education Credits (CEUs)
0
TCH
0
Road Scholar Hours
---
Select A Session
Date
Session Name
Location
There are no sessions of this course currently scheduled.