Complete Streets 301: Transit Street Design-Virtual Classroom
Date: 3/22/2022 1:00 PM - 3/23/2022 3:00 PM
Location: Virtual


,
---
Overview
Description:
The Complete Streets 300 Series is being offered once again. There is no need to retake any of the sessions you may have attended in the past.


301: Transit Street Design March 22 & 23
302: Safety Countermeasures April 19 & 20
303: Bicycle/Pedestrian Network Planning May 18
304: Traffic Calming Design June 7 & 8
305: Design Workshop June 21 & 22
306: Public Engagement July 12 & 13
This training will provide an overview of street design tools and strategies to support more effective transit systems, and facilitate safe movement for all users of an urban street. Topics will include access to transit through multi-modal networks, transit supportive bus stops, and transit street/intersection design. A hands-on design charrette for a transit corridor.
Attendees will receive the Zoom link in an email after registering.
Note: These 300 training series are shorter, topic focused discussions, meant as additional Complete Streets resources. Alone, this training does not fulfill the Complete Streets training obligation for eligibility in the Complete Streets Program.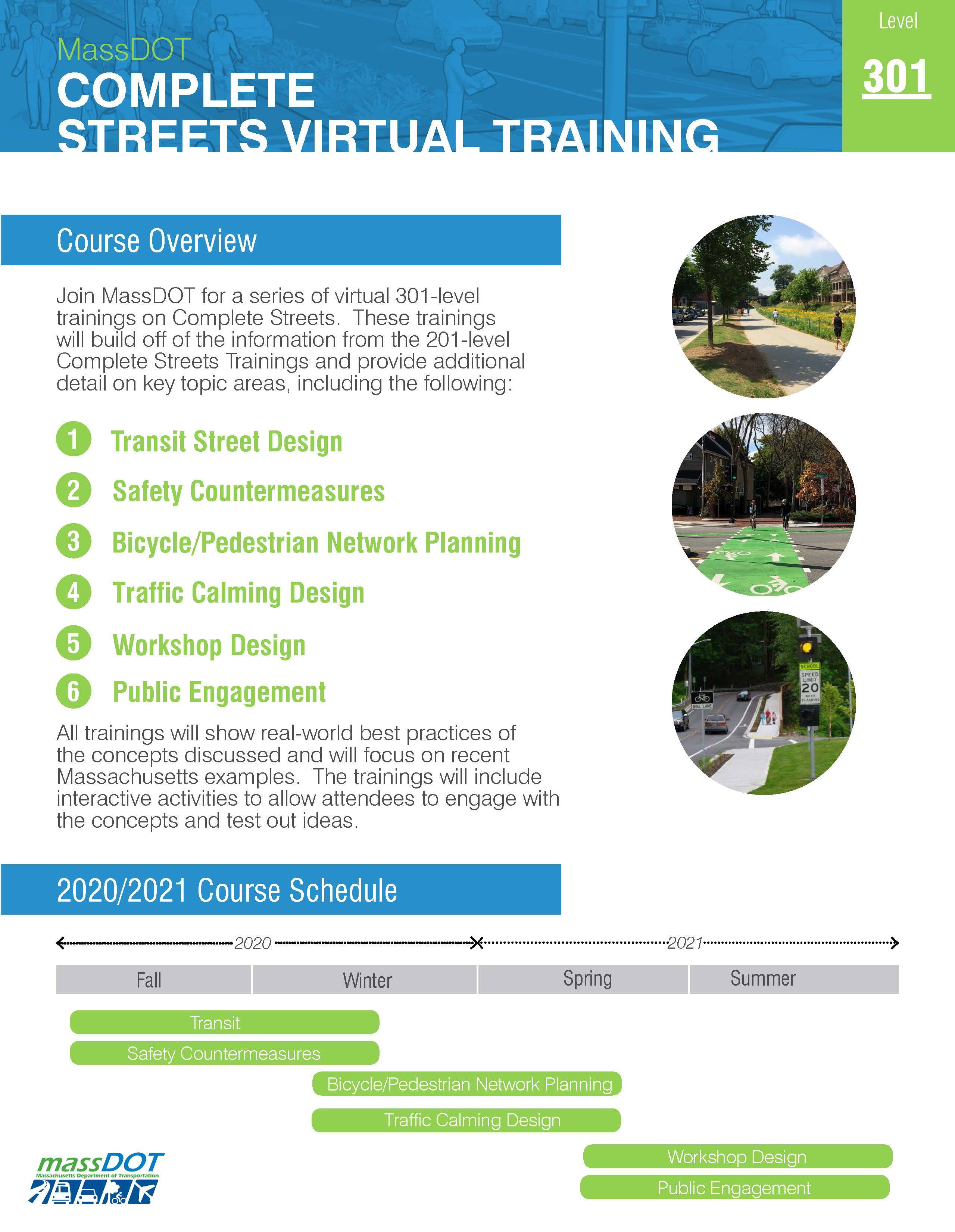 COVID policy update
We are required to consider the safety of our attendees during these virtual classroom trainings. As such, the following policy has been implemented for the safety of all of our participants.
Please remember:
If any participants will be sharing a screen for the coming class, inform the training coordinator, Brenda Codella at bcodella@umass.edu, ahead of time. - UMTC can send circular discs to towns/departments to mark distances, mail masks and trial size hand sanitizers if needed.
There will be a Safety Briefing at the beginning of the training session to announce these protocols, to do our part in stopping the spread of COVID-19.

If participants are in the same room:
Participants must be 6' apart and wearing masks. (UMTC team members have been told to stop a class if they see that these requirements are not being followed)
Virtual meeting video must be turned on when possible to increase interaction, confirm attendance, and encourage social distancing
Accommodations for Disabilities: UMTC endeavors to provide an inclusive learning environment for all. If you require special services or arrangements to fully participate in this workshop, please contact Brenda Codella at bcodella@umass.edu or 413-522-6434 as soon as possible to discuss reasonable accommodations for your access needs.

Registration
Amount

Free
Register by 3/22/2022
Private Sector

Register

Free
Register by 3/22/2022
Public Sector

Register
If you are having trouble registering, please email admin@umasstransportationcenter.org or call (413) 545-2604 for assistance.
Attendees
| First Name | Affiliation |
| --- | --- |
| Edward | MassDOT |
| Jessica | South Central Kansas Coordinated Transit Council, Inc. |
| Jose | Town of Wellesley DPW |
| Sara | SRPEDD |
| Anthony | Town of Andover |
| Terry | Town of Bedford Bicycle Advisory Committee |
| Glen | Town of Andover Police Department |
Instructors
Conor Semler
Senior Planner at Kittelson & Associates, Inc.

Caitlin Tobin
PE, Senior Engineer at Kittelson & Associates, Inc.