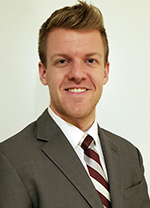 Francis Tainter, Ph.D.
Research Assistant Professor
Dr. Francis Tainter is a Research Assistant Professor in the Transportation Engineering Program in the Department of Civil and Environmental Engineering at the University of Massachusetts Amherst. His main research focus is transportation safety, operations, policy, and human factors. Dr. Tainter has nearly 10 years of research experience working with the UMTC, starting as an undergraduate researcher and continuing through his doctoral studies at UMass. Outside of the UMTC, he is an active member of the ACH50 TRB Committee on Road User Measurement and Evaluation and serves as a paper reviewer for several TRB committees, including the Traffic Control Devices Committee (ACP55) and the Vehicle User Education Training and Licensing Committee (ACH60). Dr. Tainter works with the UMTC through various facets including the oversight of research selection and contracting processes, communications with principal investigators, and enhancing communication with the MassDOT Research section.
Contact information:
Francis Tainter
Research Assistant Professor
UMass Transportation Center
Hampshire House
Room 316
131 County Circle
Amherst, MA 01003
978-501-1058
ftainter@umass.edu

LinkedIn