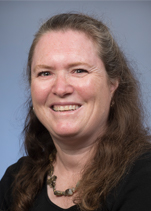 Tracy Zafian
Research Fellow
Tracy has over 25 years of experience as a transportation researcher and planner, including for local and regional governments, and in academia. She worked as a transportation and land use planner for the La Crosse, Wisconsin Metropolitan Planning Organization (MPO) and the Franklin Regional Council of Governments (FRCOG) in Massachusetts. At UMass Amherst, prior to joining the UMTC, Tracy served as a researcher and the lab manager for 10 years at the Human Performance Laboratory (HPL), where she conducted driving research, community outreach, and did day-to-day lab administration and management tasks. The lab conducts both driving simulator studies and field studies on a variety of topics including driver training, driver distraction, roadway and intersection design, and vehicle automation. At the UMTC, Tracy has continued doing some research. Her role is also to support, facilitate and help coordinate research with UMTC research partners, including MassDOT. One priority is building the affiliate research network connecting academic researchers with state transportation agencies and practitioners in the field.
Tracy's research interests include transportation access and equity, sustainable mobility, and human factors in transportation, including driver training. During her HPL days, when she was helping design effective driver training programs for teens, she became accredited as a driving instructor. She is also interested in promoting women and minorities in STEM fields such as transportation. In 2017, she served as a co-director for UMass Amherst's Summer Transportation Institute, a multi-week program for high school students which introduces them to various aspects and jobs in the transportation sector and encourages them to pursue transportation-related careers.

Tracy has an M.S. in Transportation from the Massachusetts Institute of Technology, and an M.S. in Urban and Regional Planning from the University of Wisconsin. As an undergraduate student at Dartmouth College, she earned a degree in mathematics and completed extensive coursework in environmental studies, including a semester abroad.
Contact information:
Tracy Zafian
Research Fellow
UMass Transportation Center
Hampshire House
Room 316
131 County Circle
Amherst, MA 01003
tzafian@umass.edu