Efthymia Kostopoulou Receives WTS - Rhode Island - Local Graduate Scholarship
03/02/2021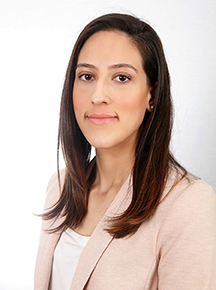 Efthymia Kostopoulou, a PhD student in the College of Civil and Environmental Engineering, has been awarded the 2021 WTS - Rhode Island - Local Graduate Scholarship. The Rhode Chapter awards one graduate scholarship in the amount of $1,000.

The scholarship is open to women with a GPA of 3.0 or higher, who are currently enrolled in a graduate degree program in a transportation-related field, such as transportation engineering, planning, finance or logistics, and plan to pursue a career in a transportation-related field.

The scholarship is competitive and based on the applicant's specific transportation involvement and goals, job skills and academic record. The selection committee commented on Efthymia's passion for transportation as evident through her research activities and coursework.

The Rhode Island Chapter will also forward Efthymia's application to the WTS Foundation for consideration for the national Helene M. Overly Memorial Undergraduate Scholarship in the amount of $10,000.