UMass Transportation Engineering doctoral candidate Alyssa Ryan is recent award winner and runner up
08/04/2021
Alyssa Ryan awarded the Clemens Herschel Award by the Boston Society of Civil Engineers Section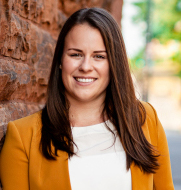 Doctoral candidate Alyssa Ryan was awarded the Clemens Herschel Award by the Boston Society of Civil Engineers Section for her paper "The impact of sex on motor vehicle crash injury outcomes" published in the Journal of Transportation Safety & Security. The Clemens Herschel Award recognizes an individual who has published a paper that has been useful, commendable, and worthy of grateful acknowledgment. The award was created by the late Clemens Herschel, a former Past President and Honorary Member of the Society. Ms. Ryan's paper was co-authored by Francis Tainter, Cole Fitzpatrick, Jennifer Gazzillo, Robin Riessman, and Michael Knodler. The paper discusses injury disparities between male and female drivers in crashes in Massachusetts using a linked dataset of over 26,000 crashes. The results of the study revealed that male and female drivers experience different injuries in similar crash conditions. The results of this research are directly applicable to researchers, vehicle designers, and policymakers in their pursuit to develop a safe environment for all roadway users.


Ryan runner up for ASCE-T&DI 2021 Jack E. Leisch Fellowship Award
ASCE's Transportation & Development Institute (T&DI) is pleased to congratulate Sheida Khademi, a Ph.D. student at the University of Texas at Arlington, for winning the 2021 Jack E. Leisch Fellowship Award. The Jack E. Leisch Fellowship is a memorial to the outstanding professional accomplishments and contributions of Jack E. Leisch, M.ASCE, to the fields of geometric design, traffic engineering, and transportation planning.
T&DI also wishes to congratulate runner up Alyssa Ryan, doctoral candidate from the University of Massachusetts Amherst. Her research focuses on leveraging advanced technologies and data analytics to address safety, economic, and equity engineering challenges as core issues that uphold the barriers to achieving sustainable transportation systems for the diverse populations they serve. Ms. Ryan is a current member of the ASCE Key Contact Program, Boston Society of Civil Engineers, Transportation and Development Institute, and sits on several ITE committees and councils.