UMTC and Sara's Wish Foundation completed the study on seatbelt use on motorcoaches
07/11/2022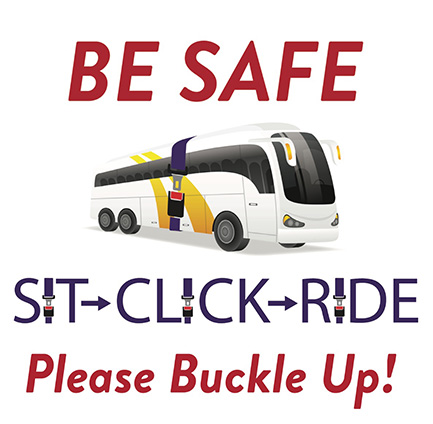 The University of Massachusetts Transportation Center (UMTC) and Sara's Wish Foundation (SWF) have completed a study supported by the Safe System Innovation Grant from the National Safety Council to design and test a national motivational campaign to increase seatbelt usage on motor coaches. This reflects the goal of the Road to Zero Coalition to end traffic fatalities by 2050. The funds in the grant were provided by the National Highway Traffic Safety Administration (NHTSA).

Doubling Down with Seatbelts - a Proven Technology: Reducing Fatalities and Injuries on Motor Coach Transportation

The need for seatbelts on motorcoaches led to Congress passing the 2013 Final Rule [78 FR 70416] entitled "Federal Motor Vehicle Safety Standards: Occupant Crash Protection" mandating the installation of lap/shoulder seatbelts in all-new motorcoaches produced after November 2016. Approximately 1,200 new motorcoaches are manufactured yearly and an estimated 35,000 were on the road immediately before the Covid-19 pandemic. Many existing motorcoaches are equipped with seatbelts. More and more passengers will be presented with safety restraint systems going forward. But will passengers use them? In light of the fact that millions of dollars have already been spent to equip buses with seatbelts and that millions more will be invested in the next 5 to 10 years, it is both fiscally responsible and common sense to promote seatbelt usage to maximize the benefits of these investments, not to mention keeping riders safer.

The objectives of this exploratory research were threefold:

• Gather and analyze information regarding motorcoach seatbelt use in the New England area and California;

• Identify and test the effectiveness of promotional actions to increase seatbelt use among motorcoach passengers; and

• Create an effective national motorcoach seatbelt campaign "kit" to increase seatbelt usage on motorcoaches.

Preliminary baseline seatbelt usage counts were conducted in Fall 2019 and Winter 2019/20 on motorcoach services provided in the New England/New York area and California. According to these counts, the overall observed averages of seatbelt use on motorcoaches were 6.7% in New England and 37.8% in California. California has a recent law mandating seatbelt usage on motorcoaches. California is the only state with such legislation. The pandemic not only disrupted motorcoach services throughout the U.S. but also impacted seatbelt usage. For example, in the summer of 2021, the overall observed average of seatbelt usage on motorcoaches in New England dropped from a pre-pandemic level of 6.7% to 3.3%, and the overall average of seatbelt use on the services in California dropped from a pre-pandemic level of 37.3% to 28.2%.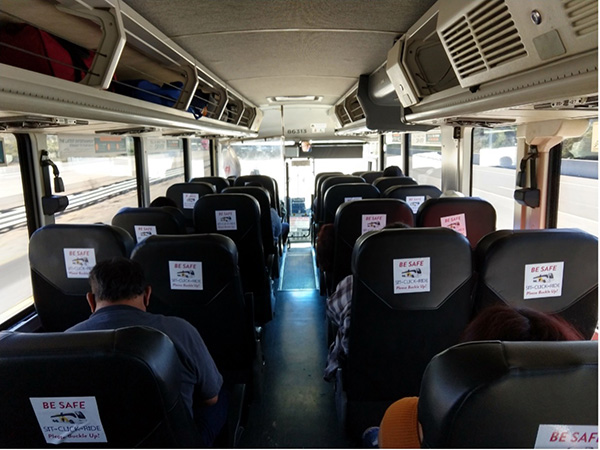 With promotional actions in place, seatbelt counts were also conducted in August-September of 2021. Following the implementation of the promotional messages, observed seatbelt use increased from 3.3% to 30.3% on the services in the New England area and from 28.2% to 47.8% on the services in California.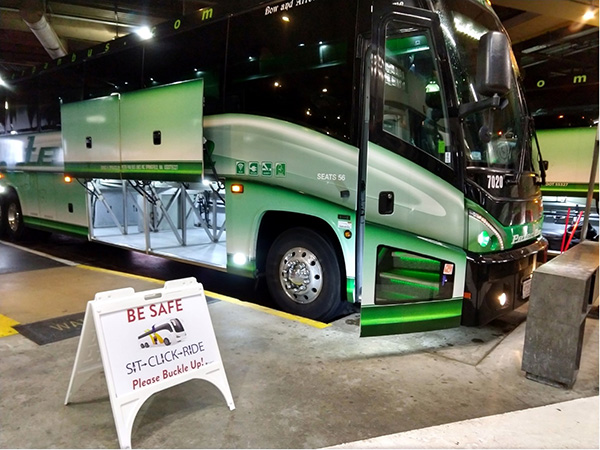 Throughout this study, UMTC and SWF have been working in close collaboration with United States Department of Transportation agencies including the Federal Motor Carriers Safety Administration, National Highway Traffic Safety Administration, National Safety Council, and the Federal Highway and Transit Administrations as well as the American Bus Association, United Motor Coach Association, Greyhound, Peter Pan Bus Lines, Megabus, and other motorcoach industry stakeholders.

The Road to Zero initiative was launched in October 2016 as a joint effort between the National Highway Traffic Safety Administration, the Federal Highway Administration, the Federal Motor Carrier Safety Administration, and the National Safety Council. The goal is to eliminate roadway deaths by 2050. The Department of Transportation committed $1 million annually from 2017 to 2019 and an additional $500,000 in 2018 to fund Safe System Innovation Grants. The National Safety Council is managing the grant process under the auspices of the National Highway Traffic Safety Administration. For more information about Road to Zero, please visit nsc.org/roadtozero.
University of Massachusetts Transportation Center conducts transportation research, education, and training activities to improve transportation mobility and safety with innovative technologies and institutional strategies and partnerships. The UMassSafe Program, a multidisciplinary traffic safety research program housed in UMTC, works with many federal and state transportation safety agencies and transportation industry partners. UMassSafe collects and analyzes crash-related data, provides online data access, develops training materials, and examines data quality challenges within the databases, providing recommendations for safety improvements to save lives and reduce injury severity. www.umasstransportationcenter.org

Sara's Wish Foundation was established to perpetuate the memory of Sara Christie Schewe. In 1996, Sara, a beautiful and loving young woman, was killed in a fatal bus crash along with six others, including three classmates, while participating in a study abroad program. The mission of Sara's Wish Foundation is to sustain Sara's living spirit by promoting travel safety standards and practices around the globe and by providing financial support to young women working in the areas of education, healthcare, and/or public service in the global community. SWF has been especially committed to seatbelt safety for the last 15 years. www.saraswish.org

More information can be found on the project's webpage.
Project Final Report

Project Final Report PowerPoint
A Seatbelt Promotional Campaign Kit for Nationwide Distribution to Motorcoach Operators