Francis Tainter Named to ITE's 2023 Young Leaders to Follow Class
06/02/2023
The Institute of Transportation Engineers (ITE) has named Francis Tainter to its 2023 class of Young Leaders to Follow. The 2023 Young Leaders to Follow class is comprised of 20 transportation professionals under 35-years-old who have demonstrated leadership and innovation within the transportation industry and ITE. To advance and promote the transportation industry, ITE is dedicated to cultivating and recognizing the up-and-coming talent and future generation of transportation professionals.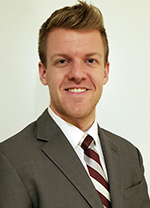 Recipients were chosen from a competitive pool of young professionals based upon their experience, professional successes, and recommendations. In announcing the 2023 Young Leaders to Follow, ITE Executive Director and CEO Jeff Paniati, said:

"ITE provides leadership opportunities to those of all ages, but these members have distinguished themselves at a young age. They have made significant contributions to ITE's success, and we look forward to great things from them in the years to come."

Please join us in recognizing Francis for this outstanding achievement. For more details and to view the list of 2023 Young Leaders to Follow, please visit the June issue of the ITE Journal.

Founded in 1930, ITE is a community of transportation professionals including transportation engineers, transportation planners, consultants, educators, technologists, and researchers. Through meetings, seminars, publications, and a network of more than 17,000 members working in 78 countries, ITE connects members to a world of ideas, people, and resources. For more information, visit www.ite.org.