UMTC Research Affiliates Gerasimidis and Breña Receive MassDOT and NETC Funding to Test Deteriorated Bridges
07/10/2020
UMass Amherst Becoming a Leader for Bridge Research in New England




UMTC Research Affiliates, UMass Amherst professors Simos Gerasimidis and Sergio Breña have received $667,000 in funding from the Massachusetts Department of Transportation (MassDOT) and the New England Transportation Consortium (NETC) for research projects studying corrosion-deteriorated bridges across Massachusetts and in New England as a whole. "These projects aim to improve our understanding on the behavior and safety of critical transportation infrastructure. They are an important first step towards assessing the remaining structural strength of deteriorated bridges after many decades in service," says Gerasimidis.

For the MassDOT projects, the researchers have worked closely with MassDOT to develop evaluation guidelines that can be easily implemented into the MasssDOT Bridge Manual.

Gerasimidis: "This is the first time that real naturally corroded bridges have been tested in a laboratory setting, making this research very important. We have been fortunate to have received real beams from decommissioned bridges for testing in our Brack Structural Engineering Laboratory." These laboratory tests are the first to be performed on full-scale corroded beams extracted from existing highway bridges. Brena comments further, "The capability of testing large-scale structural components at the Brack Structural Testing Laboratory has allowed UMass Amherst to become the focal point for bridge research in New England."

According to recent estimates, more than 50,000 bridges in the US are characterized as structurally deficient. Among the many aspects of structural deficiency, corrosion is considered a common cause for steel bridge deterioration, especially in northern parts of the country. This corrosion can be primarily attributed to the leaking of water through deck joints, with the water containing high concentrations of chemicals used for winterizing roads from the roadway above. The corrosion can then cause severe thickness loss of the bridge beams.

One main challenge that this research is trying to address is to develop techniques that accurately assess the residual capacity of beams in their corroded stage. By studying more than 200 bridges in Massachusetts, Gerasimidis and Brena have identified and characterized the phenomenon within the State and are now expanding their research to the rest of New England with funding from NETC.

Along with experimental testing, Gerasimidis and Brena are using advanced finite-element modeling techniques to predict remaining bridge capacity and to generalize their findings for implementation in current bridge design codes. Their research has identified the factors that significantly impact the remaining strength of deteriorated girders, with the primary goal to develop new code procedures and calculation methods that better resemble the computational and experimental results.

These research studies are also aiming to develop effective and consistent procedures for collecting important data from deteriorated ends of steel beams, including a list of measurements and tasks for inspectors to follow during inspections. This research is also investigating the use of new technologies such as LiDAR or drones for bridge inspection, data collection, and evaluation.

Figure 1. A naturally corroded beam from a decommissioned MA bridge in place for testing in the Brack Structural Laboratory at UMass Amherst.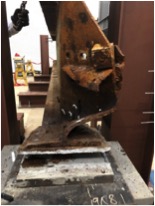 Figure 2. The beam after testing showing buckling at the corroded location.

Current MassDOT studies being contacted by Dr. Gerasimidis and Dr. Breña: (click for study overviews)
Inspection Procedures for Deteriorated Bridge Beams

Improved Load Rating Procedures for Deteriorated Steel Beam Ends with Deteriorated Stiffeners
To learn more about these projects, the Brack Structural Engineering Laboratory, or UMass Amherst's bridge research, please contact Simos Gerasimidis (sgerasimidis@umass.edu) or Sergio Breña (brena@umass.edu).