Commercial Vehicle Safety Summit - Advancing Technology to Prevent Truck & Bus Crashes
Date: 10/25/2022 8:00 AM - 10/26/2022 1:30 PM
Location: The Graduate Providence
11 Dorrance Street

Providence, Rhode Island
---
Overview

The University of Massachusetts Traffic Safety Research Program (UMassSafe), with support from the FMCSA, will be hosting the Commercial Vehicle Safety Summit - Advancing Technology to Prevent Truck & Bus Crashes on October 25-26, 2022 in Providence, Rhode Island. The Summit will feature demonstrations of innovative programming and technologies for reducing roadway crashes, while also providing a venue for the exchange of ideas and resources between safety stakeholders and industry.
Representatives from Truck & Bus Associations/Industry, Law Enforcement, FMCSA, Drivers Licensing Agencies, and Universities within the Eastern Service Center region are invited to attend.
Please join us and learn about the prevention of crashes involving large trucks and buses utilizing existing and emerging technologies, such as collision mitigation systems, stability control, telematics, virtual weigh stations and much more!
Registration fee waivers are available. Click here to apply.
Limited travel reimbursement grants are available. Click here to apply.

If you have any questions, or would like to be added to our mailing list, please contact Ben Yeager at benyeager@umass.edu
This material is based upon work supported by the FMCSA under a cooperative agreement, FM-MHP-0551-20-01-00.
Registration
Amount

$150.00
Register by 10/1/2022
ESC Summit Registration - Private & Non-Profit Organizations

Register

$150.00
Register by 10/1/2022
Law Enforcement, Licensing & Other Public Agencies _____________________________________ **Other Federal Agencies (non-FMCSA), register here, cost will be waived after registration**

Register

FMCSA Sponsoring Agency, No Registration Fee
Register by 10/1/2022
ESC Summit Registration - FMCSA Only - Other Federal Agencies use option above

Register
If you are having trouble registering, please email admin@umasstransportationcenter.org or call (413) 545-2604 for assistance.
Sponsor/Exhibit
The 2022 Summit is an opportunity to reach new clients in the truck and bus industry, law enforcement and State and federal government. Representatives involved in all aspects of commercial vehicle safety and operations attend our events for networking opportunities and learning about innovative tools and strategies. As a result, exhibiting at our Summit will provide an exceptional platform for introducing your company to the regulatory entities, as well as other leaders leaders and trendsetters in commercial vehicle safety.
EXHIBITOR - FREE with cost of paid attendee / $300
Exhibitors will be located in the L'Apogee where breakfast and break refreshments will be served, in order to give the most exposure to all our attendees.
SPONSORSHIPS WELCOME $1,000 - $5,000
Your Logo and Recognition as a Premier Sponsor on the Conference Program Cover

Full Page Acknowledgement in the Conference Program

Your Logo on Event Exhibitor Website Page (Including Link to Your Organization's Website)

Your Logo on Event Email and Direct Mail Marketing Materials

Your Logo on Session Agenda Signs Outside Each Meeting Room

Namesake Sponsor Thank You Announcement at Beginning of the Conference

Special Recognition at Registration Booth Denoting Conference Sponsorship

Table Top Display Space with 8 Foot Skirted Table, One Chair and One Waste Paper Basket (Additional Chairs and Special Considerations Such as Electrical Outlets Available Upon Request)

Company Banner Displayed in Main Ballroom

Brief (2-3 Minutes) Speaking Opportunity to Address Conference Attendees

Includes Three Complimentary Summit Registrations (Including Breakfast, Lunch and Breaks)
To secure your Sponsorship, please contact UMassSafe Director Robin Riessman (
riessman@ecs.umass.edu
or 413-577-1035).
Travel
Nearest Airport:
Rhode Island T.F. Green International Airport (PVD) - 10 miles south of hotel
2000 Post Rd, Warwick, RI 02886 https://goo.gl/maps/khm83mzs1fdx1sJv7
Uber/Lyft Available ($30)
This event is a MCSAP travel eligible expense.
Registration fee waivers are available. Click here to apply.
Limited travel reimbursement grants are available. Click here to apply.
Route from TF Green International Airport to Graduate Providence: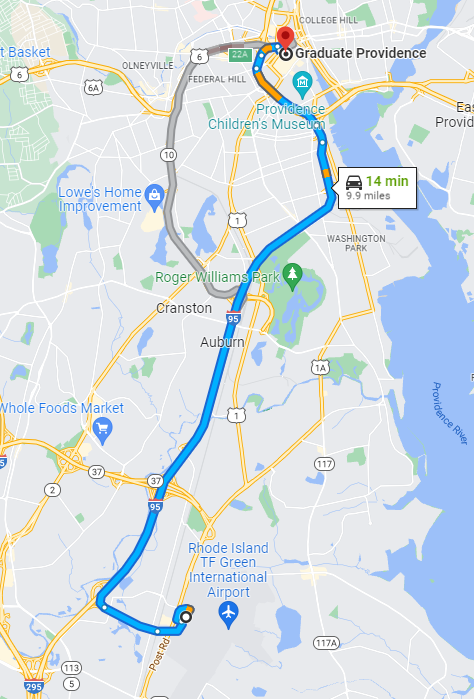 Hotel
11 Dorrance St, Providence, RI 02903

Limited rooms available at this location, please reserve hotel accommodations as soon as possible.
Discounted Rooms $155 per night
Note: Cutoff date for this discounted rate is September 27th
Use this link to make your reservation: https://www.graduatehotels.com/providence/#/booking/step-1?group=2206CMVSTS&arrive=10/24/2022&depart=10/26/2022
For reservations by phone, call 401-421-0700 and choose option 0 for the front desk to ensure success with the group code.
Cancellations must be done with 48 hours notice.
Parking

A privately owned/operated parking garage is located adjacent to the hotel.
Do not use credit card when entering garage, 'take ticket' instead, see UMass staff for validation.
If a credit card is used on entry, there is no way to cancel charge.
Overnight guests are charged $25 per night for self-parking. Non-overnight guests attending the Summit will be charged $18 per car for self-parking.
Parking is limited and therefore not guaranteed.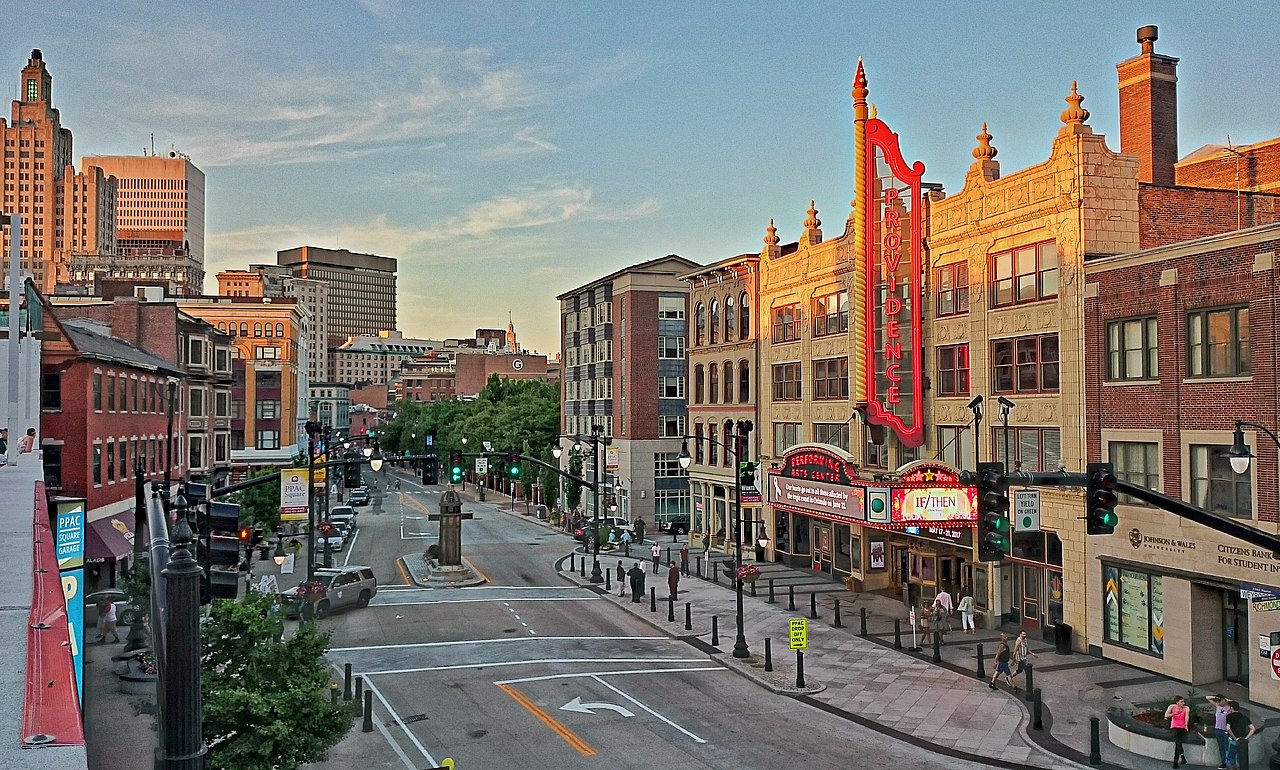 Providence, Rhode Island
Providence combines small-town warmth and accessibility with all the culture of a large city, with a thriving arts community, vibrant downtown and excellent dining to enjoy while you visit.
This material is based upon work supported by the FMCSA under a cooperative agreement, FM-MHP-0551-20-01-00.
Schedule
Tuesday, October 25, 2022
(Note: This schedule is tentative and subject to change)
7:45 AM Registration, Exhibits, and Breakfast
8:30 AM Opening Remarks and Keynote
9:15 AM Plenary Panel: Emerging Trends and Challenges in CMV Safety Technology
10:15 AM Break and Exhibits
10:45 AM Concurrent Sessions A and B
11:45 PM Luncheon - Keynote
1:15 PM Plenary Panel: Automated Commercial Vehicles: Ready for the Road?
2:15 PM Break and Exhibits
3:00 PM Concurrent Sessions C and D
4:15 PM Demo
5:30 PM Networking Reception
Wednesday, October 26, 2022
(Note: This schedule is tentative and subject to change)
7:30 AM Registration, Breakfast and Exhibits
8:30 AM Opening Remarks
9:00 AM Plenary Panel: Impairment & CDL Nuances
10:00 AM Break and Exhibits
10:30 AM Concurrent Sessions E and F
11:45 AM Luncheon - Plenary Session: Safe System Best Practices
1:30 PM End of Summit
Agenda
Agenda
(Note: This agenda is tentative and subject to change)
Day 1
Opening Remarks - 8:30 - 9:15 AM
Plenary Panel: Emerging Trends and Challenges in CMV Safety Technology - 9:15 - 10:15 AM
Moderator - Mike Knolder, UMass Transportation Center, UMass
Introduction - Taft Kelly, FMCSA
Mary Maguire, AAA Northeast
Matt Camden, VTTI
Rebecca Brewster, ATRI
Tom Keane, FMCSA
Concurrent Session A: Carrier Spotlight: Safety and Compliance - 10:45 - 11:45 AM
In-Vehicle Driver Monitoring - Mike Lasko, Boyle Transportation
Industry Safety Technology - Frank Cruice, Pedure Farms, Inc.
Bus Safety Technology - Bryony Chamberlain, DATCCO
Compliance as a Data Problem: Our Digital Future - Hunter Yaw, Log Rock
Concurrent Session B: CDL Driver Behavior - 10:45 - 11:45 AM
Psychological Factors of Changing Driver Behavior - Bryan Porter, Old Dominion University

Self-Reported Incidence of Risky Driving in CMV Fleet Drivers - Nic Ward, Leidos

CDL Driver Safety - TBD
Luncheon Keynote - 11:45 AM - 1:15 PM
Autonomous Vehicles and the National Roadway Safety Strategy - Missy Cummings, NHTSA, Duke University
Plenary Panel: Automated Commercial Vehicles: Ready for the Road? - 1:15 - 2:15 PM
Missy Cummings, NHTSA, Duke University

Jeff Loftus, FMCSA

Melissa Froelich, Aurora
Concurrent Session C: Truck Parking Technologies - 3:00 - 4:15 PM
Assurance of Rest? - Scott Grenerth, TSPS
Truck Parking - Tom Phelan, BHX Engineering
Truck Parking Study - Jolanda Prozi, TTI
Concurrent Session D: Innovative Enforcement Tools - 3:00 - 4:15 PM
Human Trafficking App: Enforcement Aids? - Melissa Flod, Minnesota Bureau of Criminal Apprehension

Distracted Driving Enforcement Technology - Mark Etzbach, Acusensus

Innovative Approaches to Overweight/Oversize Vehicle Permitting and Enforcement - Chet Osborne, MassDOT

Automated CMV Evaluation (ACE): Inspection Demonstrations and Evaluations - Brenda Lantz, Upper Great Plains Transportation Institute, NDSU
Demo - 4:15 - 5:00 PM
RISP and Acusensus: Distracted Driving Tool
Networking Reception - 5:30 - 6:30 PM
Day 2
Opening Remarks - 8:30 - 9:00 AM
Plenary Panel - Impairment & CDL Nuances - 9:00 - 10:00 AM
Concurrent Session E: Work Zone Safety Navigation - 10:30 - 11:45 AM
Collaborative Efforts Toward Addressing Work Zone Safety - Martha Kapitanov, FHWA
North Carolina Vehicle Alerts - Kelly Wells, NC DOT
Technological Solutions to the Truck Crash Picture: Timely and Relevant Information - Mark Savage, Intelligent Imagining Systems
Concurrent Session F: Technology in Courts to Reduce Masking - 10:30 - 11:45 AM
Title TBD - Attorney Stacey Manware, CT Judicial Courts

How Technology in Our Courts is a Vital Tool in Reducing Masking - Judge Gary Graber, Darien Town Court

Title TBD: Aaron Ann Cole-Funfsinn, National Traffic Law Center
Luncheon - Plenary Session: Safe System Best Practices - 11:45 AM - 1:00 PM
End of Summit - 1:30 PM
Attendees
| First Name | Affiliation |
| --- | --- |
| Vincent | Massachusetts State Police |
| Jennifer | UMass Transportation Center (UMTC) |
| Michael | UMass Transportation Center (UMTC) |
| Robin | UMass Transportation Center (UMTC) |
| Benjamin | UMass Transportation Center (UMTC) |
| Michelle | MassDOT |
| Bonnie | MassDOT |
| James | MassDOT |
| Eric | FMCSA (Federal Motor Carrier Safety Administration) |
| Patrick | Federal Highway Administration (USDOT FHWA) |
| Jennifer | FMCSA (Federal Motor Carrier Safety Administration) |
| William | FMCSA Virginia Division (Federal Motor Carrier Safety Administration) |
| Joe | FMCSA (Federal Motor Carrier Safety Administration) |
| Richard | FMCSA Massachusetts Division (Federal Motor Carrier Safety Administration) |
| Summer | FMCSA Maryland Division (Federal Motor Carrier Safety Administration) |
| Edward | FMCSA (Federal Motor Carrier Safety Administration) |
| Kevin | FMCSA (Federal Motor Carrier Safety Administration) |
| Alberto | FMCSA Puerto Rico & US Virgin Islands Division (Federal Motor Carrier Safety Administration) |
| James | FMCSA (Federal Motor Carrier Safety Administration) |
| Daniel | FMCSA (Federal Motor Carrier Safety Administration) |
| James | FMCSA West Virginia Division (Federal Motor Carrier Safety Administration) |
| Laura | FMCSA New York Division (Federal Motor Carrier Safety Administration) |
| Craig | FMCSA Virginia Division (Federal Motor Carrier Safety Administration) |
| Carlos | FMCSA Puerto Rico & US Virgin Islands Division (Federal Motor Carrier Safety Administration) |
| Chris | FMCSA (Federal Motor Carrier Safety Administration) |
| Linda | FMCSA (Federal Motor Carrier Safety Administration) |
| Christopher | FMCSA Connecticut Division (Federal Motor Carrier Safety Administration) |
| Wilfred | FHWA RI |
| Stephen | FMCSA Maryland Division (Federal Motor Carrier Safety Administration) |
| Richard | FMCSA Maryland Division (Federal Motor Carrier Safety Administration) |
| Thomas | FMCSA (Federal Motor Carrier Safety Administration) |
| Taft | FMCSA (Federal Motor Carrier Safety Administration) |
| Robert | FMCSA Maryland Division (Federal Motor Carrier Safety Administration) |
| Rober | FMCSA (Federal Motor Carrier Safety Administration) |
| Sue | FMCSA (Federal Motor Carrier Safety Administration) |
| Jeff | FMCSA (Federal Motor Carrier Safety Administration) |
| David | US Department of Transportation (USDOT) |
| Bernard | FMCSA (Federal Motor Carrier Safety Administration) |
| Ture | FMCSA (Federal Motor Carrier Safety Administration) |
| Richard | US Department of Transportation (USDOT) |
| Steven | FMCSA (Federal Motor Carrier Safety Administration) |
| Christopher | FMCSA (Federal Motor Carrier Safety Administration) |
| Joseph | FMCSA Virginia Division (Federal Motor Carrier Safety Administration) |
| Philip | FMCSA (Federal Motor Carrier Safety Administration) |
| Brian | FMCSA New York Division (Federal Motor Carrier Safety Administration) |
| Carolyn | FMCSA (Federal Motor Carrier Safety Administration) |
| Philip | FMCSA Maryland Division (Federal Motor Carrier Safety Administration) |
| John | FMCSA Massachusetts Division (Federal Motor Carrier Safety Administration) |
| John | FMCSA (Federal Motor Carrier Safety Administration) |
| Michael | FMCSA West Virginia Division (Federal Motor Carrier Safety Administration) |
| Tim | FMCSA (Federal Motor Carrier Safety Administration) |
| DAVID | PrePass Safety Alliance |
| Charles | Peter Pan Bus Lines |
| Kylie | |
| Matt | Virginia Tech Transportation Institute |
| Jason | Gold Medal Bakery |
| Bryony | DATTCO |
| Aaron Ann | NDAA NTLC |
| Marcy | American Association of Motor Vehicle Administrators |
| Cameron | C&J Bus Lines |
| Enrique | Drivewyze, Inc. |
| Christopher | Peter Pan Bus Lines |
| Timothy | Maine Motor Transport Association |
| Eric | Kansas State University |
| Melissa | Aurora |
| jim | fedex freight |
| Matthew | Lone Star Coaches |
| Carl | FedEx Ground |
| Kate | Trucking Association of New York (TANY) |
| Jason | FedEx Ground |
| Michael | Boyle Transportation |
| Jamie | C&J Bus Lines |
| Joe | C&J Bus Lines |
| Joseph | Capitol Motor Carrier Compliance |
| Erin | Kansas State University |
| Sarah | New England Tractor Trailer Training School (NETTTS) - RI |
| Thomas | Gannett Fleming, Inc. |
| Peter | Peter Pan Bus Lines |
| Benjamin | C&J Bus Lines |
| Phanna | Gold Medal Bakery |
| Ken | United Motorcoach Association |
| John | Pennsylvania Motor Truck Association |
| Joe | Lone Star Coaches |
| Jon | Gold Medal Bakery |
| Mark | IIS |
| Jamie | New England Tractor Trailer Training Schools (NETTTS) |
| Hunter | LogRock |
| Candace | Volpe (The National Transportation Systems Center) |
| Punita | Delaware DOT |
| Calvin | Virgin Islands Office of Highway Safety |
| Mary | NHTSA (National Highway Traffic Safety Administraion) |
| Leroy | Virgin Islands Office of Highway Safety |
| Lisa | Rhode Island Division of Motor Vehicles (RI DMV) |
| Shawn | Virginia State Police |
| Antonio | Connecticut Department of Motor Vehicles (CT DMV) |
| Aaron | Maine State Police - Troop K |
| Sgt | New Hampshire State Police |
| Eric | University of Connecticut |
| Rosalyn | Virgin Islands Office of Highway Safety |
| Martha | Federal Highway Administration (USDOT FHWA) |
| Angelene | Connecticut Department of Motor Vehicles (CT DMV) |
| Michael | Rhode Island Division of Motor Vehicles (RI DMV) |
| Elizabeth | Massachusetts Department of Public Utilities Transportation Oversight Division |
| Joycelyn | Virgin Islands Office of Highway Safety |
| Sibongile | Connecticut Department of Motor Vehicles (CT DMV) |
| Stacey | Connecticut Superior Court |
| Marquis | District of Columbia Department of Motor Vehicles (DC DMV) |
| Mark | Virginia State Police |
| Alexander | Virgin Islands Office of Highway Safety |
| Michele | Connecticut Department of Motor Vehicles (CT DMV) |
| Jerry | Pennsylvania State Police |
| Kelly | Connecticut Department of Motor Vehicles (CT DMV) |
| Michael | Pennsylvania State Police |
| Garth | Connecticut Department of Motor Vehicles (CT DMV) |
| Charles | Johnston Rhode Island Police Department |
| Jason | Delaware Department of Motor Vehicles (DE DMV) |
| SHAUN | New York State Police |
| Abraham | Connecticut Department of Motor Vehicles (CT DMV) |
| Emily | US Department of Transportation (USDOT) |
| Brendan | FMCSA |
| Sahmantha | Virgin Islands Office of Highway Safety |
| Evelyn | Connecticut Department of Motor Vehicles (CT DMV) |
| Sean | Virginia State Police |
| Christa | Pennsylvania DOT |
| Michael | Massachusetts State Police |
| Caleb | Delaware Department of Motor Vehicles (DE DMV) |
| Kelly | North Carolina DOT |
| Stephen | Virginia Tech Transportation Institute |
| Frank | Perdue Farms Inc |
| Melissa | MN Bureau of Criminal Apprehension |
| Gary | Town of Darien Justice Court |
| Scott | Truck Specialized Information Services |
| Darrin | FAAR NASID |
| Brenda | North Dakota State University |
| Gina-marie | Rhode Island State Police |
| Will | National Tank Truck Carriers |
| Mary | AAA Northeast (Southern New England) |
| Bryan | Old Dominion University |
| Brian | Virginia Tech Transportation Institute |
| Brian | FAAR NASID |
| Nic | Leidos |