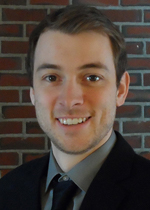 Cole Fitzpatrick, Ph.D.
Research Assistant Professor, UMassSafe
Cole Fitzpatrick, recently officially joined the UMassSafe team. He is a Research Assistant and Professor in the Transportation Engineering Program in the Department of Civil and Environmental Engineering at the University of Massachusetts at Amherst. He has been an active member of the UMassSafe program since his time here as a graduate student. His research interests include data analytics, human factors, and traffic safety. He currently splits his time between the UMass Transportation Center and UMassSafe. Here at UMassSafe, Dr. Fitzpatrick is the Principal Investigator on several projects, as well as serving as a student advisor, and data scientist.


Contact information:
Cole Fitzpatrick, Ph.D.
Research Assistant Professor, UMassSafe
UMass Transportation Center
Hampshire House
Room 316
131 County Circle
Amherst, MA 01003
cfitzpat@umass.edu