BLOG: Latest Data on Large Truck Crash Fatalities
04/01/2018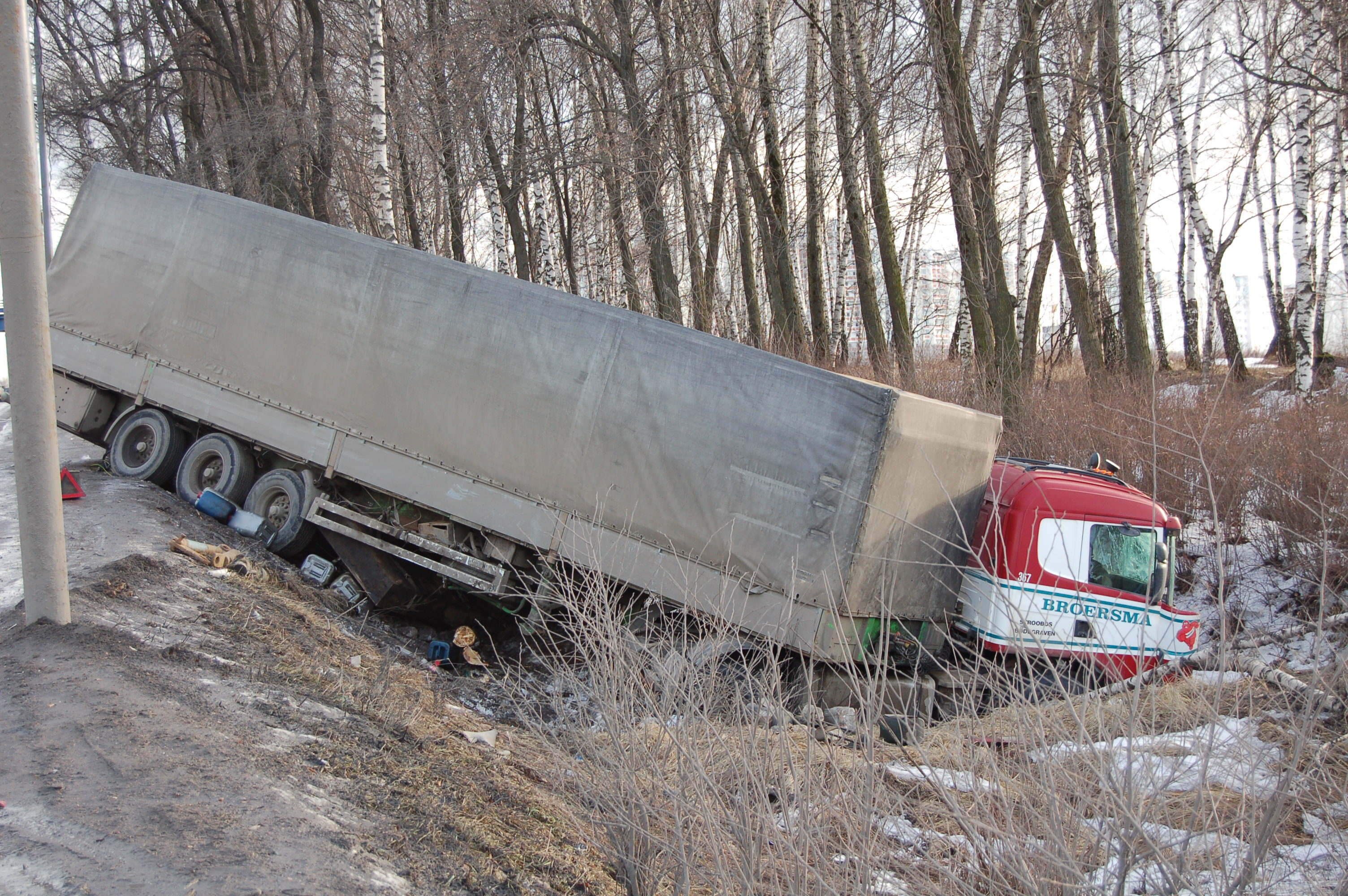 In December 2017, the Insurance Institute for Highway Safety (IIHS) updated its summary on large truck crashes and fatalities to include 2016 data from the Fatality Analysis Reporting System (FARS) maintained by the National Highway Transportation Safety Administration (NHTSA). The FARS data show that though the number of deaths from large truck crashes has decreased nationally over the past 30 years, there has been a recent increase over the last few years.
In 2016, a total of 3,986 people nationwide died in large truck crashes.* Two-thirds of these deaths were occupants of cars and other passenger vehicles, while 17% were truck occupants, and 16% were pedestrians, bicyclists, or motorcyclists.
According to IIHS's analysis of the 2016 FARS data:
The number of people who died in large truck crashes was 27% higher in 2016 than in 2009, when large truck fatalities were the lowest they have been since the collection of fatal crash data began in 1975.

The number of truck occupant deaths (660) was 47% higher than in 2009.

73% of deaths in large truck crashes involved tractor-trailers.

62% of large truck occupant deaths occurred in single-vehicle crashes.

67% of large truck occupants that were killed in multiple-vehicle crashes were in a collision involving another large truck.

32% of the fatal truck crashes occurred on an interstate or freeway; 60% occurred on another major roadway.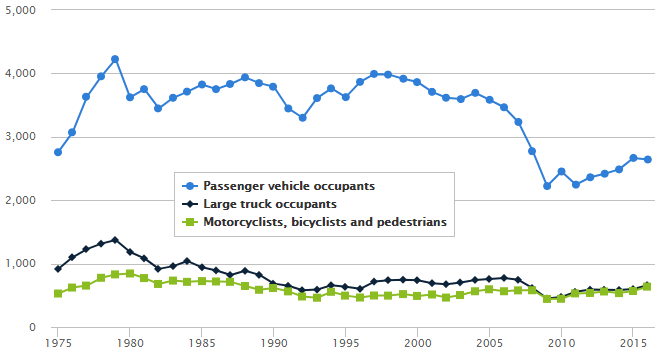 Source: Insurance Institute for Highway Safety, Dec 2017.
What does the data show?
As described in the Federal Motor Carrier Safety Administration (FMCSA)'s fact sheet on large commercial vehicle crashes, the 2016 FARS data additionally showed that:
At least 39% of large truck occupants killed in crashes were not wearing a seatbelt.
Speed was a factor in 17% of crashes with at least one large truck occupant fatality.
27% of fatal crashes in work zones involved a large truck.
61% of fatal truck crashes occurred in rural areas.
6% of fatal large truck crashes involved truck driver distraction, with cell phone use being a factor in 16% of those crashes.
The FARS online database's 2016 statistics enables viewers to examine fatal crashes by state. Of states belonging to the FMCSA's Eastern Service Center (ESC) region, the District of Columbia, Rhode Island, New Hampshire, Vermont, and Delaware, are among the 10 states with the lowest number of large truck crash fatalities (along with South Dakota, Hawaii, Alaska, Wyoming). In addition, on a percentage basis, the District of Columbia, Rhode Island, New Hampshire, Massachusetts, and Delaware have the lowest proportion of large truck crash fatalities as a percentage of all traffic fatalities within the ESC. By both metrics, within the ESC region, Pennsylvania has the highest number and proportion of large truck crash fatalities, with large truck fatalities accounting for one-fifth of all traffic fatalities in the state.
In its fatal crash factsheet, the FMCSA comments that "while progress has been made to reduce crashes involving large trucks and buses, more work remains to accomplish our vision, namely, moving towards zero large truck and bus fatalities."
*The FMCSA web site on fatal truck crashes, notes the following: FARS data include 10,000 to 14,000 lb trucks [as well as heavier trucks]. Though these vehicles are categorized as large trucks, they are not necessarily used for commercial purposes. Personal vehicles not used for a commercial purpose, though categorized as large, are not regulated by FMCSA.
This article is adapted from an article written for the UMass Transportation Center research blog.
By Tracy Zafian, UMass Transportation Center Research Fellow