Technologies Impact On Transportation

PANEL OVERVIEW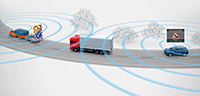 Providing digital services in a physical world has its challenges; but the highway safety benefits are impressive. This workshop explored proven and developing technologies aimed at advancing the safety and efficiency of the commercial transportation industry. The three speakers in this panel represent Uber, HELP, Inc. and PwC.
WHY ARE WE TALKING ABOUT THE IMPACT OF TECHNOLOGY ON TRANSPORTATION?
The technology that is available for use by transportation safety stakeholders is impressive, and for a myriad of reasons, is useful for moving toward the overall goal of Zero Deaths. However, much like the growing amount and variety of data, the way that we integrate these technologies into safety planning is constantly changing. This topic is integral to safety programming moving forward, and thereby, this Summit explored the benefits of evolving technology, the trends and emerging problems on the minds of industry stakeholders, and the ways in which their organizations are addressing both.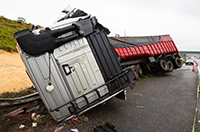 ADDRESSING TECHNOLOGY AT THE SUMMIT
To address the use of technology in transportation safety today, the planners of the Summit sought out a variety of speakers that shed light on this topic. The presentations in this panel included the following:

• Leveraging Technology for Safety: Learning from Uber – Heather Rothenberg of Uber discussed the safety focus of Uber as well as how they have utilized smartphone technology to provide feedback to drivers and safety features for passengers. In addition, as part of her presentation, Rothenberg shared some partnerships that have grown between Uber and other safety-focused organizations, such as Mothers Against Drunk Driving (MADD) and the Governor's Highway Safety Association (GHSA).

• Pre-Pass Weigh Station Bypass – Steve Vaughn of Help, Inc. discussed the strategies employed by HELP Inc. to utilize technology to hasten commercial vehicle inspection and enforcement. HELP Inc. – Heavy-Vehicle Electronic License Plate – is a non-profit public/private partnership formed to improve highway safety and efficiency.

• Insurance Implications of Autonomous Vehicles – Anand Rao of PwC described ridesharing, automated driver assistance systems (ADAS), autonomous vehicles (AV) and electric vehicles (EV) as disrupting the auto industry ecosystem. Young people living in urban centers are making a shift toward sharing, as opposed to owning, assets – including cars. This shift will fundamentally change the way we think about transportation safety.
NEXT STEPS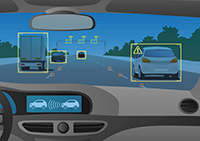 The next steps for working with and planning for changes in technology in transportation safety are specific to each topic, and for each organization that is working toward a solution.
More information on these presentations can be found in the Commercial Vehicle Safety Research Summit Summary Report. In addition, the presentations can be accessed by clicking here.