Previous Presentations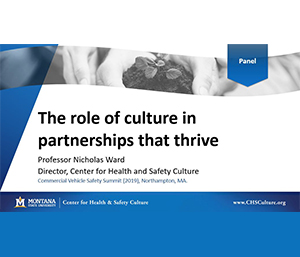 Safety Culture - Nicholas Ward, Center for Health and Safety Culture

Nicholas Ward of the Center for Health and Safety Culture outlines how an organization's population, operation, and partnership cultures are identified and modified to emphasize safety.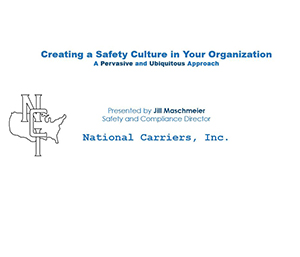 Ensuring Operator Success - Jill Maschmeier, National Carriers Inc.

Jill Maschmeier of National Carriers Inc. shows ways a trucking company can instill and reinforce its safety culture among its drivers, from orientation onward.
Effective Partnerships - Anne Collins, FMCSA
Anne Collins of the FMCSA outlines how having an intentional safety culture in your organization can lead to more effective and mutually valuable partnerships.

Safety Culture
Safety culture encompasses the beliefs and practices of an organization. Rather than being a passive quality emerging on its own, an effective safety culture must be nurtured and reinforced by an organization's leadership. By establishing a proactive and intentional approach to safety, CMV stakeholders can better prevent crashes and reduce their severity when they occur.
Request for Materials
Do you have Safety Culture training or guidance materials for companies or drivers? Share here so we can include them on the site:
Additional Resources
Additional news articles, research, editorials, presentations and webinars are available through the Commercial Vehicle Safety Center at the Upper Great Plains Transportation Institute at North Dakota State University as well as the Southern Service Center Commercial Motor Vehicle Technical Assistance Center (SSC-TAC) at the Center for Advanced Public Safety at the University of Alabama.