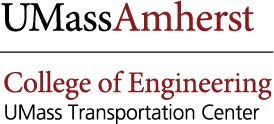 Problem Statement Solicitations
MassDOT Final Research Reports
UMass and MassDOT Research
The University of Massachusetts Transportation Center (UMTC) at UMass-Amherst supports the Massachusetts Transportation Research Program (MassDOT) and facilitates the use of the resources of the multiple campus system of UMass and other State Colleges for transportation research, technology transfer, and technology implementation. This work is carried out under an Interdepartmental Service Agreement (ISA) between MassDOT and UMass-Amherst. These resources include the service and expertise of our Affiliate Research Network, staff, managers, coordinators, and students, as well as the physical facilities including laboratories, and real world field installations.
The UMTC Research Section provides a wide variety of services for MassDOT including literature searches, problem statement review support, assistance on identifying researchers with unique expertise in needed subjects of potential research, research project administration support, publication and distribution of Final Research Reports.
Administratively, the UMTC Research Section provides a mechanism for MassDOT to quickly and efficiently contract and execute research projects.