UMass Amherst student Nicholas Fournier recognized by the U.S. Department of Transportation (DOT)
02/11/2018
UMass Amherst student Nicholas Fournier was recognized by the U.S. Department of Transportation (DOT) as the New England University Transportation Center (NEUTC) 2017 Outstanding Student of the Year for region one. This prestigious award by U.S. DOT honors outstanding students from each participating University Transportation Center. Students are selected based on a competitive selection process reviewing students' research, academic records, professional experience, and student leadership.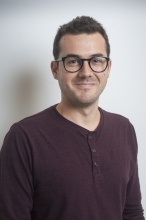 Nicholas is a PhD student in Civil and Environmental Engineering and is also pursuing a dual Master's degree in Transportation Engineering and Regional Planning. His research focuses on multimodal transportation systems, bicycle safety, sustainable transportation, and mobility on demand. He previously won the SaferSIM University Transportation Center Outstanding Student of the Year award, International Institute of Transportation Engineers Daniel B. Fambro Student Paper Award, and the Dwight D. Eisenhower Graduate Fellowship. He is a proud alumni of UMass Amherst for his bachelor's degree, a former intern for the U.S. DOT at the Volpe National Transportation Systems Center, and has published two academic journal papers with a third in review.
Congratulations to Nicholas for all his achievements.