Workforce Development Program
Workforce development is an integral aspect of UMass Transportation Center operations, from current Baystate Roads and UMTC-Transportation Training Institute classes, to researching new technologies and processes that will become future training topics. Improving the capabilities of our current workforce and planning for the future is key to a successful transportation sector and Massachusetts economy. In 2016, the most recent of these UMTC programs kicked-off with a focus on developing the next generation of transportation construction workers. Made possible through funding provided by the MassDOT and FHWA, this On-the-Job Supportive Services contract expands opportunities for women, minorities, and disadvantaged young adults entering careers in transportation construction. As our construction workforce ages, opportunities for young adults – whether within local Departments of Public Works, private sector companies and union positions are significantly expanding!
And the range of possible careers within the Transportation Construction industry is SUBSTANTIAL! Below is a list of just some of these possibilities:
Related Careers Based on Vocational Programs
Auto Mechanics/Collision Repair
• Small engine mechanic
• Automobile mechanic
• Light truck mechanic
• Heavy truck mechanic
• Diesel equipment mechanic
• Welder/Fabricator
• Field service technician
• Fleet manager
• Parts manager
• Customer Service Agent-Parts & Equipment
• Equipment service department for:
- Equipment Dealer
- Local public works department
- State highway department
- MBTA
- Amtrak

Business Information Management
• Business owner/operator
• Supply chain management
• Estimator
• Purchasing agent
• Project manager
• Junior engineer
Carpentry
• Carpenter on highway and site projects
• Install concrete forms for bridges and tunnels
• Install forms for concrete sidewalks and retaining walls.
• Install forms for light pole and sign bases
• Construct intermodal stations
Construction Craft Laborer
• Municipal Highway/DPW worker
• Laborer
Drafting
• CADD
• Estimator
• Purchasing agent
• Project planner
• Highway designer
Electrical/Electronics
• Electrician for highway and bridge projects
• Traffic signal programmer
• Traffic signal installer
• Traffic signal maintainer
• Electrician for intermodal stations
• Electrician for intelligent transportation systems

Engineering
• Transportation engineer
• Resident engineer
• Junior engineer
• Inspector
• Clerk of the works
• Estimator
• Project planner

Healthcare
• Company safety officer
• Safety instructor
• OSHA instructor

Horticulture
• Landscaper – highway vegetation, etc.
• Highway/Department of Public Works maintenance worker
• Parks and recreation worker (bike paths)
• Wetlands delineation
• Storm water technician

HVAC/R
• HVAC for intermodal stations

Metal Fabrication/Sheet Metal
• Welder
• Bridge iron worker

Marketing & Retail
• Equipment sales
• Material sales
• Company marketing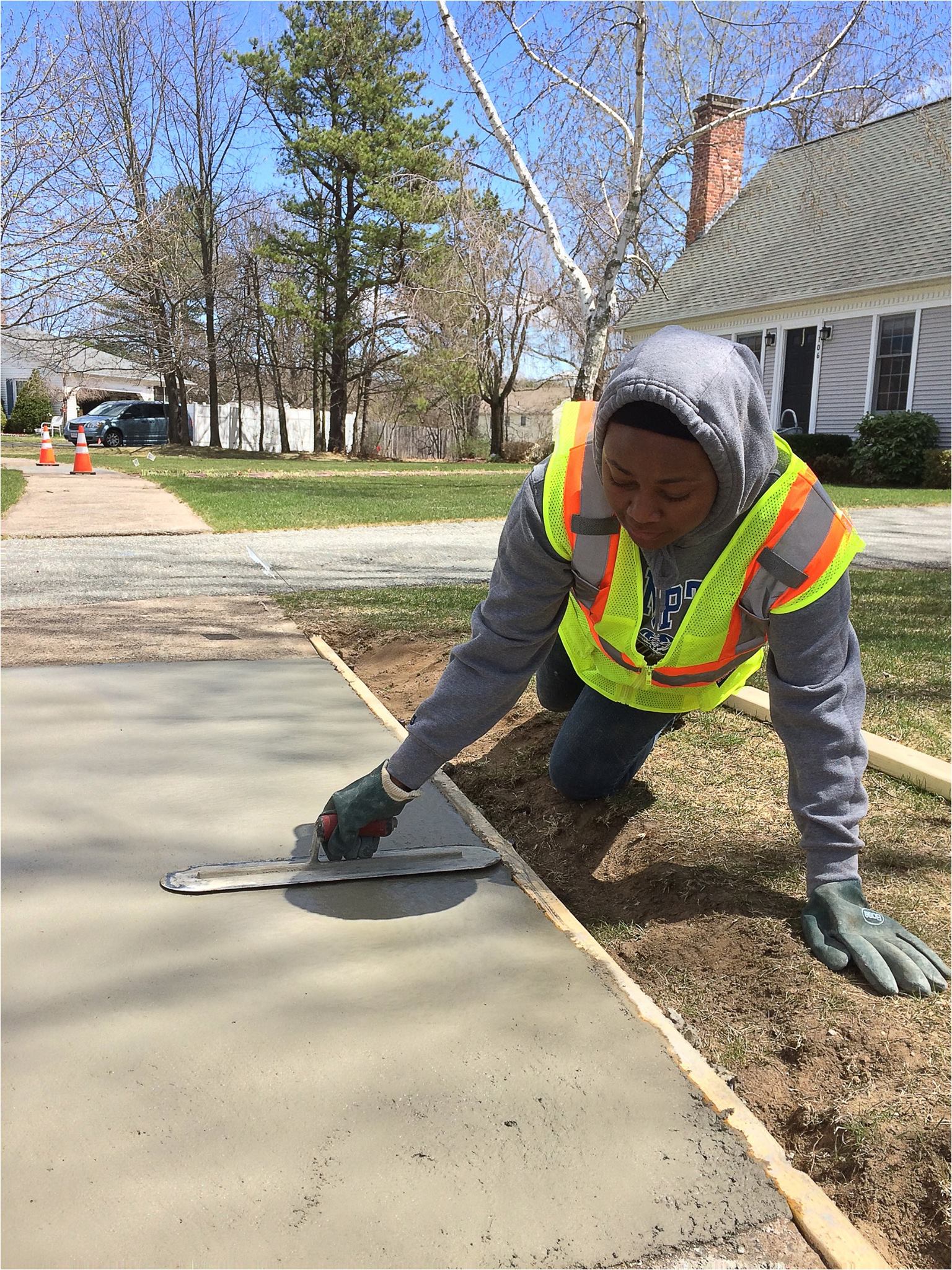 Imaghe Paul, finishing a concrete sidewalk in Westfield.
Other Transportation Construction Positions:
• CDL-A or B truck driver
• Heavy equipment operator
• Light equipment operator
• Laborer
• Concrete finisher
• Brick mason
• Painter
• Hot Mix Asphalt paving operations
• Concrete paving operations
• Pipe layer
• Project superintendent
• Site foreman
• Grade foreman
• Flagger
• Surveyor
• Layout person
• Code Compliance Officer
• Drone pilot for the following related services:
- Traffic flow analysis
- Bridge inspection
- Site planning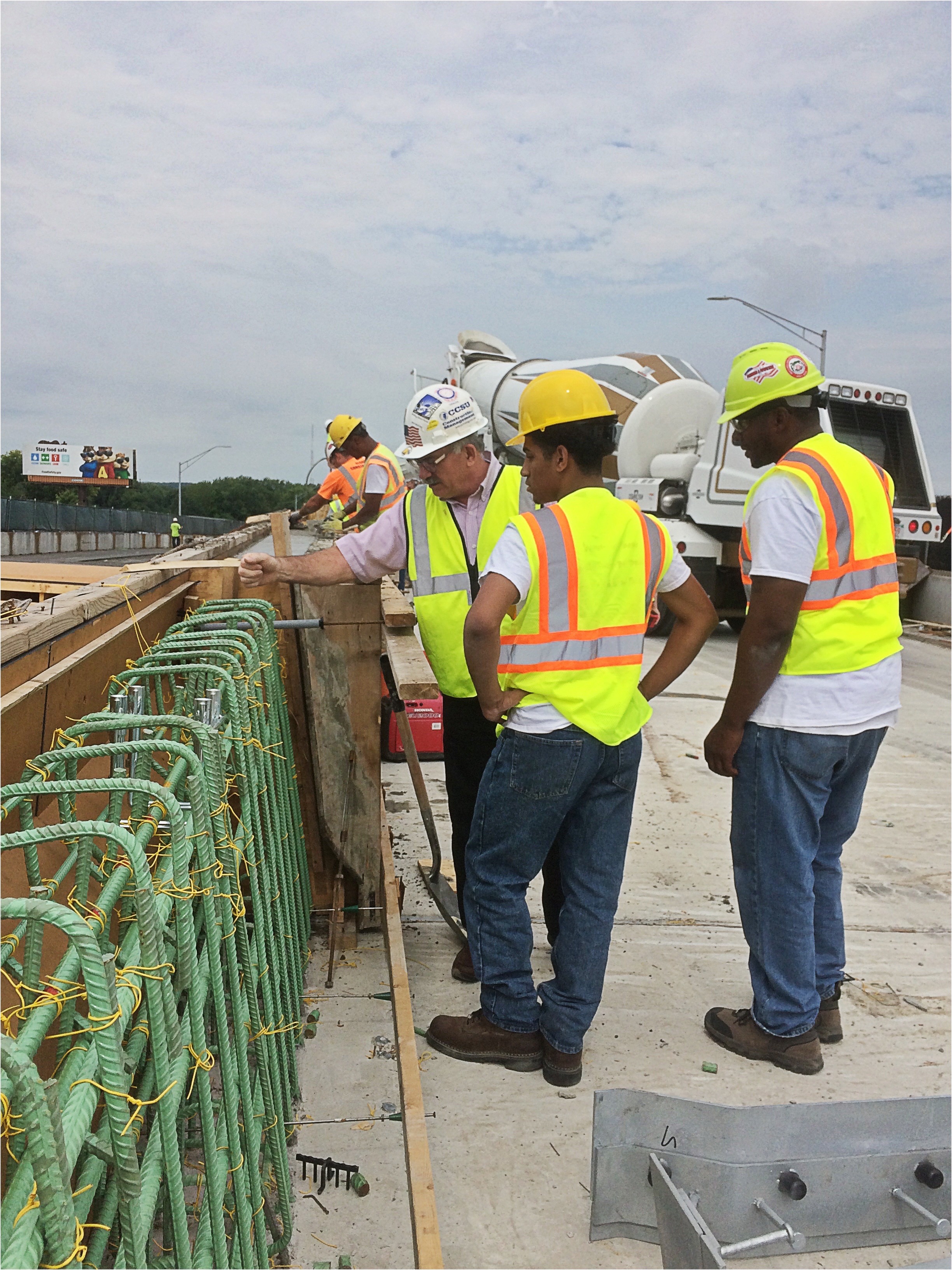 LaTore Harris (right) and Jose Laporte (center) during a field trip to the Springfield Viaduct construction project in August
Following on the success of the Massachusetts Construction Career Development Program (MCCDP) - a 30-hour pre-apprenticeship program - the UMTC Workforce Development Program applies group and individual training elements, as well as employment support services - to guide pre-apprenticeship graduates further into the transportation construction field. During the first year of operation, program services and resources have included:

Life, Work & School Skills Training
• Construction Math
• Communication Skills
• Leadership Skills
• Resume Writing
• Interview Skills
• Math tutoring
• Drivers Education Vouchers
Industry Orientation & Training
• Career information
• Competent Person/Excavation Safety
• OSHA-10 Certification
• Hot Mix Asphalt
• Springfield Viaduct Tour
• DPW Field Trip
• Laborers Union Training Academy Fieldtrip
• Flagger Certification
• Basics of a Good Road
• Concrete Sidewalk Construction
• Hoisting License Exam Prep/payment
Equipment
• Hardhats
• Safety glasses
• Safety vests
• Rain gear
• Work gloves
• Backpack tool bags
Congratulations to Kevin Asante!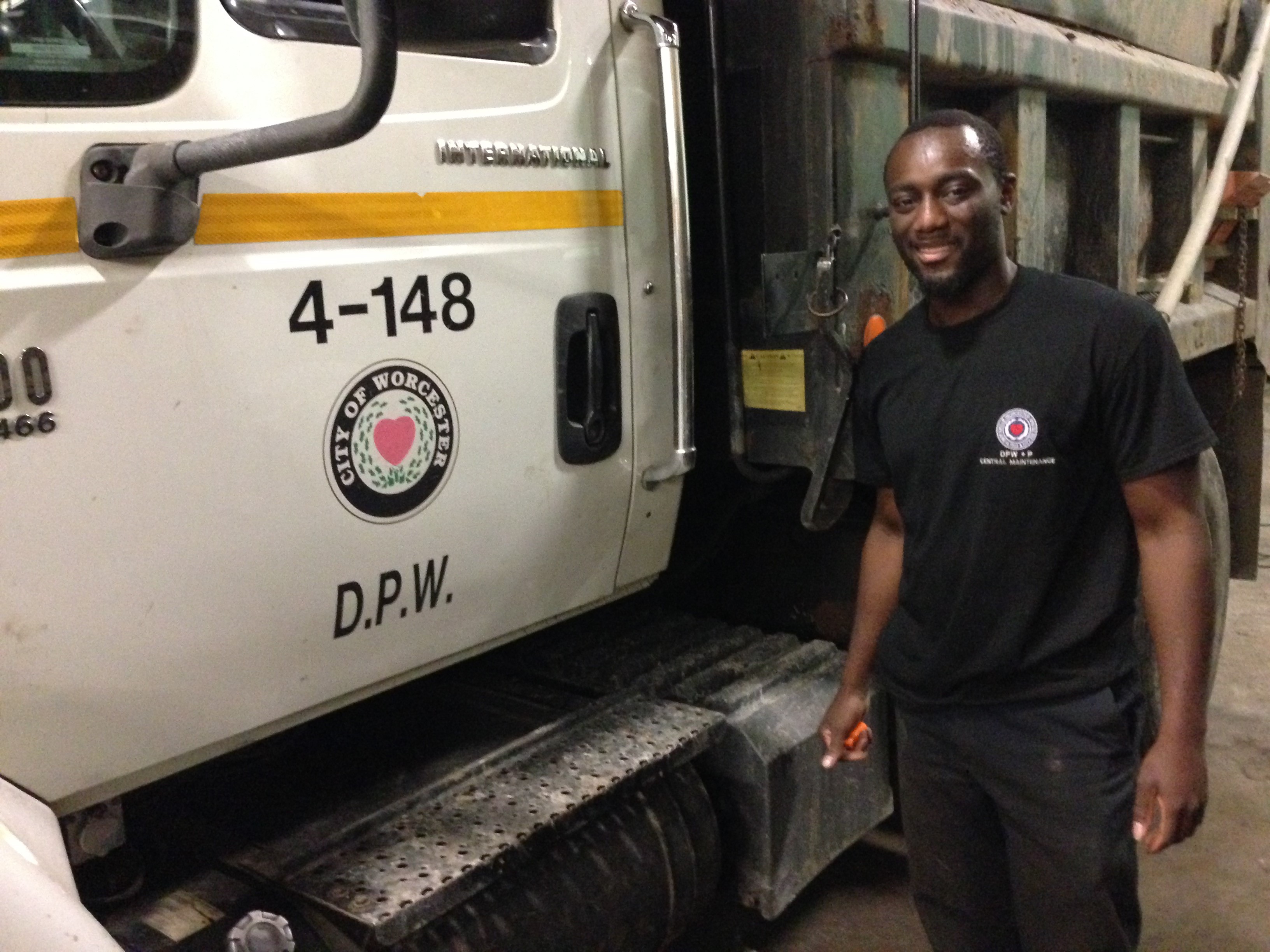 Congratulations to Kevin Asante for accepting a job at the Worcester DPW! He graduated from the MassDOT Pre-Apprenticeship Program and received his CDL-B license from NE Tractor Trailer Training School, through UMTC's Workforce Development Program. Good luck and stay in touch!
Latest participants receive CDL-B licenses through the UMass Transportation Center (UMTC) Workforce Development program

(Left - Right) Jahlil Drewery - Gilbert, Theresa Hayes, Jacyn Norfleet and Curtis Coker-Johnson

Congratulations to the three new CDL B program graduates; they are ready to go to work! Jahlil Drewery-Gilbert, Theresa Hayes and Curtis Coker-Johnson completed their CDL Class B training through the UMTC Workforce Development Program and passed their road test last week. (Jacyn is still in training). Jahlil and Curtis live in the greater Boston area while Theresa resides on the South Shore. If you have an opening in your DPW or know of an opening in the highway construction industry, please let us know.
The first three UMass Transportation Center (UMTC) Workforce Development participants have received their CDL-B licenses!
June 12, 2017 - Xavier Kinlaw and Kevin Asante of Worcester (Asante featured in photo above) and Francis Dingman of South Hadley recently completed their CDL-B training at the New England Tractor Trailer Training School and passed their CDL-B exam. All are graduates of MassDOT Pre-Apprenticeship programs and are looking forward to working with a highway construction contractor, municipal DPW or state DOT.
We have fifteen other UMTC participants in various stages of training, and will let you know as soon as they receive their licenses.
Please notify us of any openings in your department and we will pass them along.
Thank you!
The UMTC Workforce Development Team

Pilot Project participants, Kyle Thibodeau, Imaghe Paul, Kym Barnett, and Lavan Cope, getting a tour of the Springfield Viaduct Project from Ralph Romano, MassDOT (on right), and accompanied by Jeff Cathcart, UMTC.
2018 Contract
Since 2016, the UMass Transportation Center (UMTC) Workforce Development Program has grown significantly, with a total of 399 State Pre-Apprenticeship Program participants during the 2017 contract year. Training and support services provided included:
CDL-B training
Transportation construction careers
Sharing employment notices & job search strategies
Resume review & Interview skills
Life skills
Hoisting Exam Prep
Flagger Certification
Twenty-two placements were made in 2017, to the following unions, companies, and municipal departments:
Local 108 Carpenters' Union
Geeheler Industries
Laborers' Union
Millbury DPW
Northern Construction
Oxford DPW
Springfield DPW
SPS Construction
Upper Blackstone Water Pollution Abatement District
Uxbridge DPW
Westfield DPW
Worcester DPW
With our 2018 season underway, we continue to focus on providing these vital transportation construction industry skills, certifications, and licenses.
If you have graduated from a Massachusetts State Pre-Apprenticeship Program, you are eligible for Program services.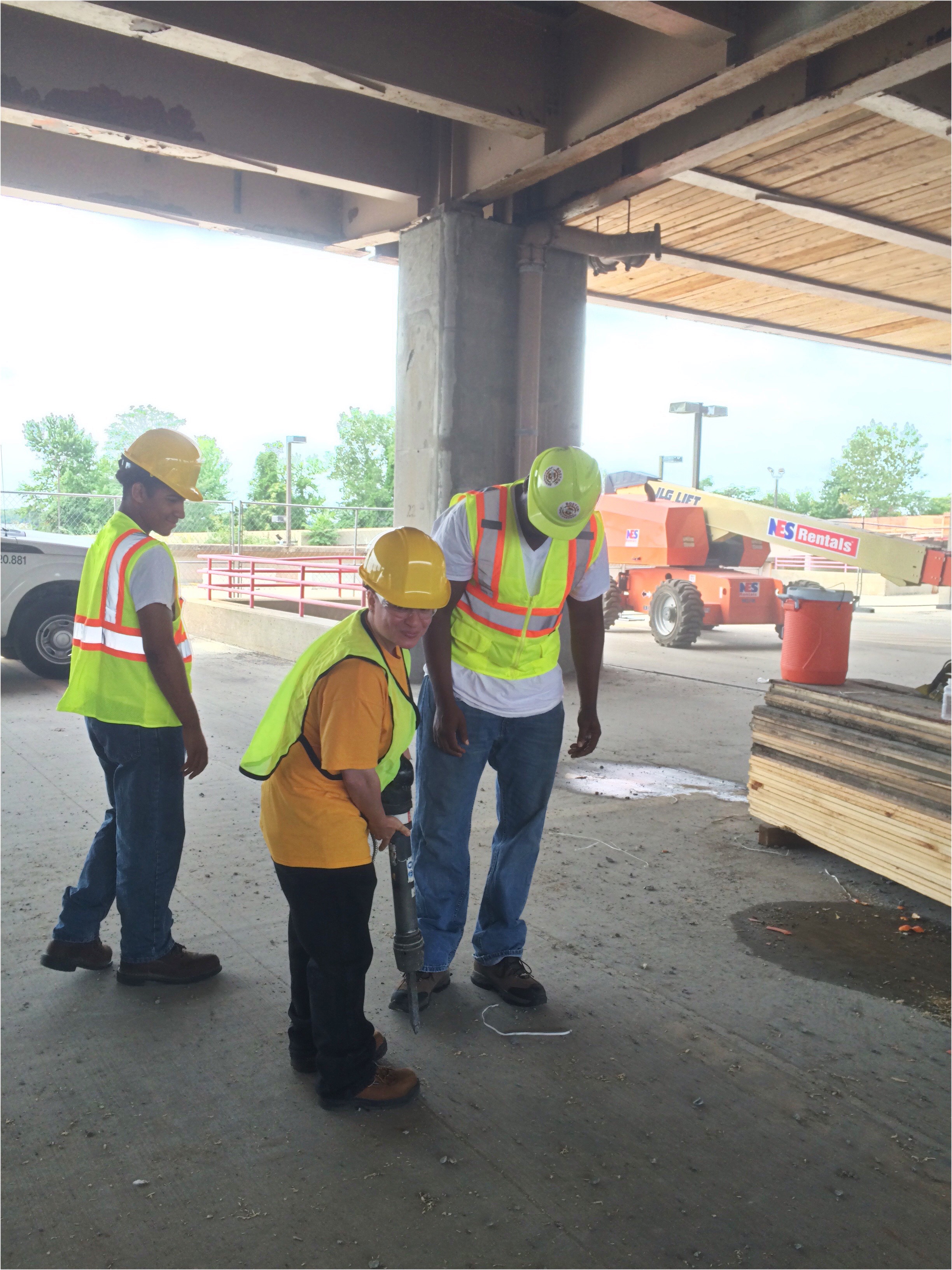 Jose Laporte, Julie Arce, and LaTore Harris, checking the weight of a jack hammer.
For more information, please contact Karen Dodge at
umtcTraining@engin.umass.edu
Office 413-545-0635

Check out our Facebook Page!

This opportunity if available only to Pre-Apprenticeship Program participants