The 2018 Moving Together Conference
Date: 11/1/2018 7:45 AM - 4:30 PM
Location: Boston Park Plaza Hotel
50 Park Plaza
Boston, Massachusetts
---
Overview
2018 Moving Together Conference

• Attend workshops and panels that highlight current pedestrian, bicycle and public transportation topics

• Network with colleagues representing diverse interests from the public, academic and private sectors

• All new site visits and mobile workshops led by engineers and bicycle/pedestrian advocates.
Thursday, November 1, 2018 • 7:45 AM – 4:30 PM
Boston Park Plaza Hotel, 50 Park Plaza at Arlington, Boston, MA.
The History of the Moving Together Conference
In 1998, both the statewide bicycling action plan and the statewide pedestrian action plan, called for the establishment of an annual statewide conference for educational and networking purposes. The first two of these conferences were held in Worcester, MA in 2000. In May, at Clark University, 50 people gathered to discuss only walking issues. Later in the year, at the Worcester Holiday Inn, 50 people focused only on bicycling issues.

In 2005, the conference moved to Boston. The first several years, the conference was held at the Marriott Courtyard on Tremont Street. Interest continued to grow until attendance hit approximately 250 persons and the conference moved to a larger venue at the Back Bay Sheraton.

The conference continued to grow and in 2013 the conference was held for the first time at the Boston Park Plaza Hotel. Transit joined the conference as a featured mode. In 2014, more workshops than ever were offered along with the addition of site visits. Over 650 people attended the event. In 2016, the conference sold out for the second year straight! Each year the conference continues to bring together transportation leaders and individuals involved in the areas of planning, public health, bike and pedestrian safety, transit, advocacy, elected office, law enforcement and education.
Register Today! Click on the "Registration" tab at the top of this page


This event is accessible to people with disabilities and individuals with limited English proficiency. If you need a reasonable accommodation (such as American Sign Language Interpreters, assistive listening devices, handouts in alternate formats, etc.) and/or language assistance (such as translated documents or an interpreter) to fully participate, please contact Cindy Schaedig at 413-577-2762 or cschaedig@ecs.umass.edu at least 14 days prior to the event. Such services are provided free of charge.
2018 Moving Together Conference Sponsors and Exhibitors
Gold Level Sponsors
Please click on our sponsor's logo to visit their website
Silver Level Sponsors
Please click on our sponsor's logo to visit their website
Bronze Level Sponsors
Please click on our sponsor's logo to visit their website
Exhibitors
Registration
Amount

$100.00
Register by 11/1/2018
Private Sector

Register

$100.00
Register by 11/1/2018
Public Sector

Register

MassDOT
Register by 11/1/2018
MassDOT

Register

$45.00
Register by 11/1/2018
Student Fee-Please call 413-545-2604 to receive discount

Register
Sponsor Fees
Amount

$3,000.00
Register by 11/1/2018
Gold Level

Register

$1,500.00
Register by 11/1/2018
Silver Level

Register

$750.00
Register by 11/1/2018
Bronze Level

Register

$500.00
Register by 11/1/2018
Exhibitor

Register

$0 (Regular Attendee Fees Apply)
Register by 11/1/2018
Public Sector Non-Profit/Government

Register
Sponsors
What Moving Together Can Do For Your Company or Organization

When you exhibit at Moving Together, your company or organization will be visited by over 800 professionals involved in healthy transportation, planning, design, construction, public health, bike and pedestrian safety, transit, advocacy, elected offices, law enforcement and education. Take advantage of the opportunity to meet with the key decision makers involved in pedestrian, bicycle and public transportation. In addition, there are several opportunities to promote your company or organization through special sponsorship opportunities being offered throughout the day.



Additional benefits for sponsors and exhibitors include:
• Logo recognition on conference sponsor/exhibitor website page.
• Name and logo listed in conference slide show played throughout the day in the main ballroom.
• Your company name listed in the schedule at a glance that is distributed the morning of the event.
Online Sponsor/Exhibitor Registration Is Now Available!
Please click on the "Sponsor Fees" tab at the top of the page.

Special Sponsorship Opportunities
Gold Level Sponsorship
A GOLD Level Sponsor includes booth space, skirted table and chair as well as the following:
Your company logo on:
• Event sponsor/exhibitor website page and home page, under Gold Level Sponsor (including link to sponsor's website).
• Email and direct mail marketing materials.
• Event brochure that is distributed the morning of the event.
• The conference slide show played throughout the day in the main ballroom.
• A "thank you" banner featuring your company logo displayed in the main ballroom.
• Company listing on session agenda signs outside each room.
• Two complimentary attendee registrations.
Cost is $3,000.00
Silver Level Sponsorship
A SILVER Level Sponsor includes booth space, skirted table and chair as well as the following:
Your company logo on:
• Event exhibitor website page under Silver Level Sponsor (including link to sponsor's website).
• Email and direct mail marketing materials.
• The event brochure that is distributed the morning of the event.
• The conference slide show played throughout the day in the main ballroom.
• One complimentary attendee registration.
Cost is $1,500.00
Bronze Level Sponsorship
A BRONZE Level Sponsor includes booth space, skirted table and chair as well as the following:
Your company logo on:
• Event exhibitor website page under Bronze Level Sponsor (including link to sponsor's website).
• Event brochure that is distributed the morning of the event.
• The conference slide show played throughout the day in the main ballroom.
• One complimentary attendee registration.
Cost is $750.00
Exhibitor
Your Exhibitor Booth Includes:
• A 6-foot skirted table, one chair and one waste paper basket.
• Additional chairs are available on request, depending on the number of attendees registered by your organization.
• One complimentary attendee registration.
Cost is $500.00
**DEADLINE FOR REGISTRATION IS NOON ON FRIDAY, OCTOBER 12, 2018**.
Online Sponsor/Exhibitor Registration Now Available!
Please click on the "Sponsor Fees" tab at the top of the page.
Registration forms can be faxed (413-545-9569) or emailed to donnelly@umass.edu. We welcome walking, bicycle-friendly and transit-friendly vendors, businesses, professional planning/design/engineering services, educational and non-profit advocacy groups.
Questions can be directed to Kathryn Donnelly 413-230-6791.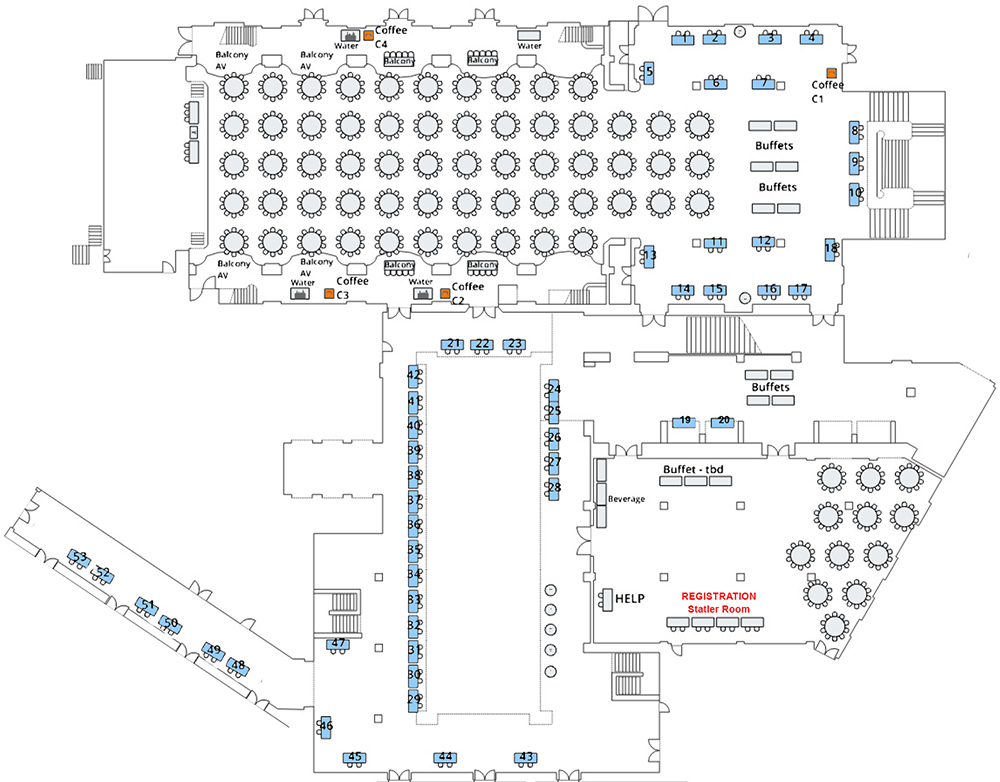 Map for illustration purposes only. Booth location is approximate. Exhibitor booths will be located in Plaza Ballroom and on Mezzanine. **Booth choice is based on sponsorship level and order of registration payments received.
Agenda
2018 Moving Together Conference Agenda
Thursday, November 1, 2018
Park Plaza Hotel, Boston
Agenda Coming Soon!
News
Baker-Polito Administration, Transportation Officials Reveal Red Line Vehicle Mock-up
August 14, 2018 - Governor Charlie Baker, Massachusetts Transportation Secretary and CEO Stephanie Pollack, MBTA General Manager Luis Ramírez, CRRC leadership, and more viewed a mock-up of the new Red Line car today at City Hall Plaza. The public is also invited to view the Red Line mock-up staged at City Hall Plaza beginning today until 7 p.m. and Wednesday, August 15, and Thursday, August 16, from 7 a.m. until 7 p.m.

"Our administration is investing over $1 billion to completely replace the fleets of the Red and Orange Lines, in addition to upgrading track and signals throughout the system to support the new cars," said Governor Charlie Baker. "Through all of these investments in the core infrastructure of the MBTA, we will be able to deliver a more reliable system for our customers."

"The new Red Line cars will provide increased capacity and upgraded technology, offering MBTA customers a more comfortable ride," said Lt. Governor Karyn Polito. "Unveiling this mock-up today is an important milestone, and we encourage members of the public to come to City Hall Plaza and tour the new cars."

"New fleet vehicles are just one of the many investments being made by the Baker-Polito Administration to improve the customer experience and improve service," said MassDOT Secretary Pollack. "The MBTA is investing nearly $2 billion in the Red Line as part of the Red Line/Orange Line Improvement Program, which includes procuring these new Red Line vehicles. The upcoming new fleet for the Red Line, coupled with new and improved track, signals, and other core infrastructure upgrades translates to a better, more reliable service for MBTA customers."

"This mock-up is just a preview of what's to come for Red Line riders. Increased capacity, technology-enhanced signage, and accessibility improvements are just some of the advanced features included on the new cars, giving our Red Line customers a more reliable ride," said MBTA General Manager Ramírez. "We encourage everyone to check out this mock-up car on City Hall Plaza and let us know what they think so we can incorporate the public's feedback into the new Red Line cars' final design."

"BTD is delighted that the MBTA is upgrading their fleet of Red and Orange Line trains. Offering affordable, reliable, and more comfortable transit on the Red and Orange Lines will entice more people to leave their personal cars at home and take public transportation into the City each day," said City of Boston Transportation Commissioner Gina N. Fiandaca. "Fewer cars operating in Boston will result in safer and less congested streets, and represents another step taken toward meeting our Go Boston 2030 goals."

"We embrace the opportunity to partner with the MBTA on that signature project," said CRRC MA President Chuanhe Zhou. "Together we have reached yet another milestone in introducing new subway cars to customers and visitors to Boston. We look forward to continued success and a prosperous partnership."

In 2014, the MBTA awarded CRRC MA the contract to design and manufacture the new Orange and Red Line subway cars with the MBTA's Fiscal and Management Control Board voting in December 2016 to replace the entirety of the Red Line fleet with new cars. New, modern vehicles, including 152 Orange and 252 Red line subway cars, comprised of the same make and model have multiple operational and maintenance benefits, and customers will be provided with more trains that run more frequently and reliably.

The mock-up is two-thirds the actual size of the new cars and showcases amenities and aesthetics to be included within the new cars. MBTA staff traveled to Changchun, China, in March 2018 to evaluate the Red Line mock-up car, which was also used by the MBTA and CRRC MA engineers during the vehicle development process.

With feedback from the public, the vehicle's modern design boasts increased capacity, accessibility improvements, technology-enhanced signage, and emergency intercom units. The new cars have the latest propulsion and braking systems, allowing the achievement of a three-minute headway target, reducing customer wait times. A standardized Red Line fleet comprised of entirely new cars also allows the MBTA to implement a life-cycle maintenance program, resulting in better maintained vehicles, fewer disabled trains causing service disruptions, and an extended service life of at least thirty years. Accessibility improvements include wider door openings for easier boarding, minimized gaps between platform and car door, dedicated accessibility areas, and technology advanced audio and visual passenger information.

Construction of CRRC MA's first North American rail car manufacturing facility in Springfield, Massachusetts was completed in April 2018 with the facility equipped with a 2,240-foot dynamic test track and a staging/storage area to accommodate the assembly of all 404 railcar vehicles for the MBTA.
Assembly of the new Orange Line cars is underway at CRRC MA's Springfield facility with the first Orange Line production cars scheduled to be completed in December 2018. The assembly of new Red Line vehicles will follow beginning in summer 2019 and will be tested on an area of test track in South Boston. Delivery of both fleets will continue through 2022 with all production vehicles assembled and tested in the CRRC MA facility in Springfield.

Orange and Red Line signal upgrades also continue to take place with work on both lines. Substantial Red Line upgrades are expected to be completed in July 2021 and substantial Orange Line upgrades are expected to be completed in February 2022. These $350.95-million investments include a complete upgrade to the signaling and train control systems for both the Red and Orange Lines as well as Phase II work performed at Columbia Junction on the Red Line and wayside signal replacement work along the southwest corridor of the Orange Line.

Total value of the New Vehicle Procurement Program is nearly $1,010 million. The total value of the Red Line/Orange Line Improvement Program as a whole, which includes vehicle procurement, infrastructure improvements, signal upgrades, and state of good repair projects, is $1,982.03 million.

For more information, visit mbta.com

Written By: Klark Jessen

Courtesy of MassDOT blog
MassDOT Celebrates New Section of Assabet River Rail Trail
August 10, 2018 - Transportation Secretary and CEO Stephanie Pollack today joined Highway Administrator Jonathan Gulliver, elected officials, municipal leaders, MassDOT staff, rail trail advocates and members of the public for a ribbon cutting event to celebrate the completion of the latest segment of the Assabet River Rail Trail in Acton and Maynard.

Through this project, 3.4 miles of new multi-use rail trail were constructed, and bridges at Tobin Park in Maynard and Mill Pond in Acton were replaced. This rail trail links the downtown Maynard business district with the South Acton MBTA Commuter Rail Station and the Assabet River National Wildlife Refuge, providing an alternative transportation option for people throughout these communities. The first 4 mile phase of the trail from Marlboro to Hudson was completed in 2005.

"MassDOT is pleased to have completed this new section of the Assabet River Rail Trail so that people in these local neighborhoods can bike, walk, or use other active forms of transportation to reach the places they need to be," said Secretary Pollack. "By strengthening our trails network, we can provide more options for travelers, better connect people to transit services, promote healthy and environmentally friendly forms of transportation, and allow residents and commuters to enjoy the beautiful landscape of the Commonwealth."

"We are proud to have constructed this multimodal trail and provided another option for people who are traveling throughout these communities," said Highway Administrator Gulliver. "We appreciate the hard work of the MassDOT crews, contractors, designers, and planners who have carried out this project, and thank the community and local leaders for their assistance and support during this process."

Construction activities began in 2016 and included constructing a 12-foot wide paved surface with two-foot shoulders, installing traffic control measures at roadway crossings, replacing existing bridges in Acton and Maynard, and installing new boardwalk in Acton.

Since 2015, the Baker-Polito Administration has constructed or funded 150 miles of paved trails, adding to the current statewide inventory of 565 miles of paved trails. Over 30 miles of trails spanning over a dozen projects are currently expected to be completed across the Commonwealth in 2018.

In 2017, Governor Baker established an Interagency Trails Team which is led by the Governor's office and is comprised of staff from the Massachusetts Department of Transportation (MassDOT), the Executive Office of Energy and Environmental Affairs and the Department of Conservation and Recreation (DCR). The purpose of the team is to help develop a unified vision for a trails network and translate that into strategic investments, policy innovation to facilitate the development of trails, and an enhanced relationship with municipal partners.

MassDOT's 5-year Capital Investment Plan (CIP) sets aside $160 million for multi-use pathways as well as $60 million for high-priority projects through the statewide Pedestrian and Bicycle Plans that are currently being completed. Other efforts to strengthen multimodal transportation include the Administration's Complete Streets Funding Program, which has awarded over $23 million to municipalities throughout the Commonwealth to build pedestrian and bicycle accommodations.
MBTA: Needham, Fairmount Line Station Improvements Project
August 7, 2018 - The MBTA has announced a new Station Improvements Project aimed at enhancing the customer experience in stations across the MBTA system.
Improvements will be specific to each station, including in-depth lighting upgrades, station power washing, and overgrown vegetation clearing among other station improvements. The first stations to receive these improvements are those along the Needham and Fairmount Lines with this work taking place during five consecutive weekends from August 11 through September 9.
"As part of our goal to improve the customer experience throughout the MBTA system, we are launching this station revitalization initiative at T and commuter rail facilities," said MBTA General Manager Luis Manuel Ramírez. "In addition to the significant investments we are making to improve system reliability, these aesthetic and safety upgrades at stations will further enhance our customers' travels."
"Our teams work hard continuously to keep Commuter Rail stations and the railroad right of way in good condition," said Keolis General Manager and CEO David Scorey. "With these short-term weekend closures, we will be able to go even further in improving the appearance and upkeep of the lines for passengers, helping to make it more pleasant for existing riders and hopefully more welcoming for new riders."
Much like the MBTA's commitment to investing in infrastructure improvements, the MBTA has also committed to improving the commutes of its riders by upgrading and enhancing the stations it serves. Additional commuter rail and subway lines will be scheduled in the coming months to receive the same enhancements.
During the five weekends, crews will re-paint yellow lines where needed, replace signage and old MBTA system maps, repair stairways and concrete, perform landscaping work, replace bike racks where present, remove graffiti if present, and perform trash removal along track areas, among other improvements specific to each station.
In order to complete these station enhancements, all weekend Fairmount Line train service from South Station to Readville Station will be replaced with alternate shuttle bus service in both directions beginning Saturday, August 11, through Sunday, September 9. For the Fairmount Line, the existing shuttle buses in place to accommodate the construction of Blue Hill Avenue Station will be expanded to cover all the stations between Readville and South Station. Blue Hill Avenue Station construction will continue to occur during these five weekends.
Saturday train service on the Needham Line will be suspended for station enhancements beginning Saturday, August 11, through Saturday, September 8 (the Needham Line does not operate on Sundays). During this time, customers are instead encouraged to utilize alternate MBTA services that exist nearby:
• Needham Heights, Needham Center, and Needham Junction customers are instead encouraged to utilize the Route 59 bus, which connects to Newton Highlands on the Green Line D branch and to Watertown Square.
• West Roxbury, Highland, Bellevue, and Roslindale Village customers are instead encouraged to utilize Route 35, 36, and 37, which connect to and from Forest Hills on the Orange Line, offering connections to Ruggles and Back Bay.
• Hersey Station customers are encouraged to instead travel to Needham Junction or West Roxbury for connections to noted area bus service.
For more information, please visit mbta.com.
MassDOT, MAPFRE Insurance Reminder to Share the Road with Bicyclists
August 6, 2018 - The beautiful summer weather allows us to take advantage of many enjoyable outdoor activities, including bicycling. Bicycling can be fun and care-free, however, there are potential dangers when motorists, bicyclists and pedestrians share the road. MassDOT, along with the help of MAPFRE Insurance, want to ensure that both those on bikes and in vehicles maintain a safe road environment for everyone.
According to the U.S. Department of Transportation's National Highway Traffic Safety Administration (NHTSA), 818 bicyclists were killed in 2015 alone, a 12.2% increase from 2014. While it's important to remember that it is primarily the responsibility of drivers to prevent these accidents, cyclists must also ride with safety in mind. NHTSA also notes that from 2000 to 2012, there was a 64% increase in the amount of people bicycling as their form of transportation to and from work. With more bicyclists on the road, avoiding crashes has never been more imperative.
MassDOT and MAPRE Insurance offer some friendly reminders on how you can keep the roads of Massachusetts bike-friendly: Remember to ride your bike responsibly, following the same rules as motorists. Make sure your bike fits you properly, especially adjusting for proper seat height; if the bike is too big or too small, it's harder to control. Before hopping on your bicycle, make sure that all items of clothing are tucked properly so they don't get caught in your bike chain. Small checks like this can ensure your safety while riding. It also a good idea to always wear a helmet.
As a driver, it's important to always drive defensively. Stay alert and focused on your surroundings by scanning the road to locate any cyclists before your car approaches them. Always assume the bicyclist doesn't see you; it's better to be safe rather than sorry.
Even the safest of drivers need a little help sometimes, which is why the MassDOT Highway Assistance Program sponsored by MAPFRE Insurance is here to help with fixing minor mechanical problems, flat tires, fuel shortages, and emergency situations. MAPFRE Insurance is also a sponsor for the upcoming Pan-Mass Challenge (PMC), the nation's original fundraising bike-a-thon that raises money for treatment and research at the Dana-Farber Cancer Institute. The event will take place August 4th through August 5th, beginning with an opening ceremony that will be broadcast live on WBZ-TV, another PMC sponsor.
The Highway Assistance Program, sponsored by MAPFRE, monitors the state's busiest highways and turnpikes around Metro Boston, Worcester, Springfield & Cape Cod (seasonal) Monday through Friday during the peak hours of 6:00AM- 10:00AM and 3:00PM-7:00PM. MAPFRE cares about the safety of state residents and vacationing visitors, which is why we continue to sponsor such a helpful program in hopes of providing a little more piece of mind for motorists in the summer and throughout the year.
Written By Patrick McDonald, CPCU, CEO, Northeast Region, MAPFRE Insurance
Courtesy of the MassDOT blog
MBTA: Draft Focus40 Plan Available for Public Comment
August 1, 2018
MassDOT Secretary and CEO Stephanie Pollack and MBTA General Manager Luis Ramírez today announced the release for public comment of a draft of Focus40: The 2040 Investment Plan for the MBTA. MassDOT and the MBTA are seeking feedback on all aspects of the Plan prior to its final release in the autumn. The public comment period will be open through September 21, 2018. A public feedback form is available at mbtafocus40.com.
Overview
Focus40 provides a roadmap for the development of future MBTA five-year Capital Investment Plans. By investing in families of key system upgrades – called 'Programs' – the MBTA will be able to better serve its customers and the communities through which it runs. Focus40 also identifies 'Priority Places' for new or improved service. These are places that have the greatest likelihood of delivering ridership and other meaningful benefits to the region.
Focus40 was developed through data analysis, public input (including more than 100 hours spent interviewing customers at transit stops and stations), and engagement with experts and other key stakeholders. It is also informed by the MBTA's Strategic Plan.
Focus40 utilizes scenario planning, a decision-making framework, to better understand what the Greater Boston region might be like in 2040. As the MBTA looks to the future, and considers factors that impact the future of transportation, including issues such as autonomous vehicle technology, commuting patterns, housing costs, and a changing climate, scenario planning can help ensure that the MBTA makes prudent investments that will support a reliable, robust, high-capacity, and resilient transit system.
Investment Programs
Focus40 is comprised of twelve investment Programs categorized into We're Doing, We're Planning, and We're Imagining phases:
Category Timeline Description
We're Doing Commitments through 2023 Investments already underway or in the five-year Capital Investment Plan.
We're Planning Next priorities Important investments that meet the needs of the region in 2040, to be planned and phased over time.

We're Imagining TBD Potentially transformative investment ideas, the feasibility, benefits, and costs of which must be better understood before the MBTA can make a decision about how and whether to move forward with them.
The contents of each of the twelve investment Programs range from specific project ideas to broader concepts. They are organized in the following way:
• Eight programs focus on existing MBTA modes and services (Red Line, Bus, Commuter Rail, etc.)
• Three programs focus on systemwide needs (customer experience, resiliency, and accessibility/paratransit).
• One program focuses on possible future expansion projects and services, with an emphasis on Priority Places.
Notable priorities include:
• Capacity improvements for each rapid transit line, including a capacity expansion of at least 50 percent on the Green Line.
• Exploration of ways to speed boarding times, improve safety, and reduce delays.
• Investments in resiliency and 'greening' the fleet with vehicles running on different and cleaner fuels.
While some near-term improvements for Commuter Rail are identified in Focus40, the MBTA Rail Vision will be looking in more detail at capital investment needs for alternative rail service models and system electrification, as well as other possibilities.
For more information and to provide your feedback on the draft Focus40 plan, please visit
Original article from MassDOT blog
Baker-Polito Administration Announces $6.4 Million in Complete Streets Funding Awards
July 13, 2018 - The Baker-Polito Administration's Department of Transportation today announced awards totaling approximately $6.4 million to 22 communities through the Complete Streets Funding Program. These awards will be used to fund local, multimodal infrastructure projects that improve accessibility for bicyclists, pedestrians, public transit users, and people using other forms of transportation.
"This popular program is just one of the many ways our administration is partnering with cities and towns to improve their own roadways to increase access to economic opportunities and connectivity throughout local neighborhoods," said Governor Charlie Baker. "We are proud to announce this latest round of award winners to help ensure that local roads and transportation infrastructure provide accommodations for all modes of travel."
"We are pleased to continue supporting our municipal partners so they can achieve their transportation and economic development goals," said Lieutenant Governor Karyn Polito. "These funding awards will enable communities across the Commonwealth to carry out projects that install new sidewalks, bicycle lanes, crosswalks, intersections, and other accommodations for people to safely and easily reach the places they need to go."
A "Complete Street" is one that provides safe and accessible options for all travel modes and for all people, taking into account the ages and abilities of individuals. The Baker-Polito Administration has now awarded a total of approximately $30 million in construction funding since creating a funding program for Complete Streets in February 2016.
"Thanks to the leadership and support of Governor Baker and Lieutenant Governor Polito, MassDOT is continuing to partner with municipalities to increase connectivity and better enable residents and commuters to reach their jobs, homes, friends, families, and opportunities across the Commonwealth," said Transportation Secretary and CEO Stephanie Pollack. "The Complete Streets Program is a reflection of our commitment to ensuring that our roadways work for everyone and benefit people of all ages, abilities, and modes of travel."
"We appreciate the hard work of all those who are helping manage and implement this important funding program," said Highway Administrator Jonathan Gulliver. "We are continuing to receive positive feedback and support from the local communities that are benefiting from these awards and we look forwarding to seeing these projects carried out."
These Complete Streets funding awards are in addition to $900 million authorized by the Baker-Polito Administration in Chapter 90 local transportation funding for cities and towns since 2015. In addition, $21.2 million has also been awarded through the Administration's Small Bridge Program, which was announced in 2016 and allows municipalities to repair or replace their small bridges which are not eligible for federal funding.
The Complete Streets Funding Program was launched on February 1, 2016. To date, 161 municipalities have approved policies and 111 have approved Prioritization Plans. Examples of projects that can be addressed through the program include improved street lighting, radar speed signage, intersection signalization, new multimodal paths and new signals at crosswalks.
Today's announcement regarding the Complete Streets Program provides funding to the following communities:
Adams will receive $290,281 for improvements including new sidewalks and ADA compliant wheelchair ramps on Crotteau Street and a portion of Murray Street, which will increase pedestrian connectivity between several key points within the town and the Ashuwillticook Rail Trail, and improve pavement and drainage conditions along Crotteau Street.
Ashland will receive $311,336 for pedestrian safety improvements at the Homer Avenue and Central Street intersection, and along Pleasant Street to provide safer access to the nearby MBTA Commuter Rail Station. Improvements such as new crossing signals will also be made in local school zones. Additionally, a bicycle lane and appropriate signage will allow a safe bicycle connection to Route 135 and abutting neighborhoods.
Bedford will receive $393,250 to install new sidewalks on Hartford Street, Crescent Avenue and Bacon Road and add a raised crosswalk at two locations. Additionally, signals will be installed at the existing crosswalk on Great Road at the Narrow Gauge Rail Trail for access to MBTA bus stops and other destinations.
Braintree will receive $94,972 for the installation of bicycle lanes, pavement markings and signage on Granite Street to improve travel. In addition, U-loop style bicycle storage racks will be installed at area schools and Sunset Lake Beach.
Gloucester will receive $398,348 to improve travel for cyclists by installing bicycle lanes along Route 127 and Main Street through Downtown Gloucester. Safety improvements at O'Malley School will include reconstruction of the Reynard and Cherry Street intersection and the addition of a crosswalk and pedestrian signals across Poplar Street.
Holyoke will receive $389,819 for the installation of pedestrian traffic signals, sidewalks, and ADA compliant curb ramps, as well as bicycle lanes on several streets in the town.
Lynn will receive $354,010 for the reconstruction of Central Avenue from Andrew Street to Oxford Street with the reconfiguration of existing ramps, crosswalks, and pedestrian traffic signal equipment. Traffic signal timing will also be modified along with the installation of countdown crosswalk signals with audible push buttons, and new STOP signs on the approach to crosswalks.
Medford will receive $149,088 to improve Tufts Square intersections by rebuilding sidewalks, repaving the intersection area and adding new pedestrian and bicycle signals and signage.
Middleton will receive $171,925 to reconstruct the intersection of Maple Street (Route 62) at Liberty Street to enhance safety for bicyclists and pedestrians. Work will include shortening pedestrian crossing distances, constructing new sidewalks with curb ramps, and adding ADA-compliant wheelchair ramps. This project will reconfigure the intersection to facilitate the flow of traffic, and improve safety for all users.
Milton will receive $396,703 for a project which includes reconstructing the northbound sidewalk on Lincoln Street to create a two-way shared use side path along the property of Pierce Middle School. Additional pedestrian improvements in the town include curb extensions, and restriping and widening of sidewalks.
Natick will receive $204,424 to make pedestrian and bicycle improvements to the Campus Street and West Street corridor and the Newfield Drive corridor such as widening sidewalks and adding street lights. This will allow for safer and easier access from Natick High School and area recreation areas and neighborhoods, and improved access from the West Natick MBTA Station to local neighborhoods.
Palmer will receive $178,282 for sidewalk and crosswalk upgrades, adding features which include pedestrian signals, ADA compliant ramps and curb extensions to reduce crossing distances.
Peabody will receive $399,820 to install a path on Perkins Street from the J. Henry Higgins Middle School to Emerson Park at Fay Avenue. From Fay Avenue to Lowell Street, the existing sidewalks along Perkins Street will be reconstructed and will include ADA compliant wheelchair ramps.
Sherborn will receive $210,284 to reconstruct a sidewalk on Main Street and construct a multi-modal path to provide a connection from Whitney Street to the Upper Charles Trail. In addition, two speed feedback displays will be installed along with school zone speed limit signs on Eliot Street and North Main Street.
South Hadley will receive $385,001 for the installation of pedestrian and bicycle safety improvements, ADA compliant ramps, the reduction of pedestrian crossing distances, and improvements in visibility for safer access to all users. Bicycle safety improvements will include new bicycle lanes and shared use markings.
Stoneham will receive $379,084 for safety improvements to the Pleasant and Williams Street and Pleasant and Spring Street intersections. Additionally, pedestrian safety improvements will be made to Central Street, and a bicycle rack will be installed at the town common.
Stow will receive $265,134 for improvements to Great Road including the reconstruction of the intersections with Harvard Road and Old Bolton Road. Additionally, this project will install new bicycle lanes and pavement markings along Route 117.
Tewksbury will receive $400,000 for the reconstruction of sidewalks and safety improvements including new wheelchair ramps, pedestrian signals, and bicycle markings. Additionally, the LRTA bus stop will be relocated to a new ADA-complaint location.
Tyngsborough will receive $396,631 to reconstruct the intersection of Kendall Road and Winslow Road and add new sidewalks and curb extensions, pedestrian signals, and ADA compliant ramps. In addition, a shared use path along Winslow Road will be installed and will provide a direct connection to the new recreation center.
Watertown will receive $289,814 for a project which includes the installation of a raised crosswalk with ADA compliant ramps and pedestrian signals on Warren Street at the Cunniff Elementary School entrance. Additional pedestrian and bicycle improvements include the widening of the existing community path and the relocation and reconstruction of the existing Watertown Street sidewalk.
West Tisbury will receive $141,500 for pedestrian accommodations including a crosswalk with ADA compliant curb ramps, pedestrian signals, yield signage, and crosswalk paint. A shared use path connection will be installed on the northbound side of Old County Road at the crosswalk to the State Forest entrance to provide an accessible link to the State Forest network for bicyclists and pedestrians.
Williamstown will receive $167,847 for the installation of solar-powered pedestrian signals at 6 locations along Main Street. This award will also enable the installation of 500 feet of new ADA accessible sidewalk and curb ramps along South Street which will connect the Buxton School to the Clark Art Institute and the rest of downtown.
Please visit the Complete Streets website for additional information. Check the Complete Streets Map for the status of community participation and documents.
Story courtesy of MassDOT Blog
It's official — ValleyBike Share, a regional partnership, opened June 28
June 29, 2018
NORTHAMPTON — Some 500 public bikes will soon be zooming across cities and towns in the Valley now that a bike-sharing program years in the making is officially underway.
The ValleyBike Share Program, similar to bike sharing systems in large cities across the country, began Thursday with a special bike parade and remarks from community leaders and program organizers. The ceremony was originally planned to take place at Pulaski Park, but was switched to Smith College Indoor Track and Tennis due to poor weather conditions.
The program will add 500 public bikes, at 50 stations, across Northampton, Holyoke, South Hadley, Amherst, Springfield and the campus of the University of Massachusett Amherst.
Click here for full Daily Hampshire Gazette story
MassDOT Celebrates Third Annual Safe Routes to School Award Ceremony
June 26, 2018 - MassDOT, through the Massachusetts Safe Routes to School (SRTS) Program, celebrated the successes of SRTS partner schools and community champions at the Massachusetts State House. Over 100 award recipients were recognized at yesterday's ceremony across four award categories. In addition, thirteen awards were given to recipients for their exemplary efforts in promoting safe routes initiatives.
"The Safe Routes to School Program is very important to MassDOT and the whole of Massachusetts," said MassDOT Secretary and CEO Stephanie Pollack. "Through providing pedestrian and bicyclist trainings, to assessing safe routes allowing access to and from school, we are helping to shape safe transportation behaviors for students to carry with them for years to come."
A program of MassDOT, the statewide SRTS program promotes annual flagship events such as Massachusetts Walk, Bike, and Roll to School Day and International Walk and Roll to School Day. Along with celebrating these event days, SRTS offers pedestrian and bicyclist training activities, as well as walk and bike assessments of the existing infrastructure. SRTS reaches out to schools and their local communities to offer one-on-one assistance to meet their specific needs, help to plan various customizable safety-focused activities, and provides additional resources to help facilitate student travel to a parent and student audience.
"The ultimate goal of this program is to give schools and communities the necessary tools for encouraging their students to get to and from school safely through active transportation, while also enjoying the benefits that this can bring," said Massachusetts Highway Administrator Johnathan Gulliver. "I am honored to see the many local and statewide partnerships that continue to help us meet our programmatic goals."
Over 100 partners were recognized during the ceremony. The following awards were presented to those who showed exemplary efforts:
Exemplary Program by Region Winners:
Barnstable-West Barnstable Elementary School, Barnstable
Cottage Street School, Sharon
Josiah Quincy Elementary School, Boston
Elm Street School, Gardner
Memorial Elementary School, West Springfield
Exemplary Program by Region Honorable Mentions:
Nantucket Public Schools
Lawrence W. Pingree Primary School, Weymouth
William E. Russel School, Boston
Millbury Street Elementary School, Grafton
Bridge Street School, Northampton
Community Collaboration Winner: Healthy Easton
Community Collaboration Honorable Mention: Newburyport Livable Streets
The 2018 Safe Routes to School (SRTS) Superhero Award was given to the Tishler Family, in honor and memory of Nikki Tishler, MassDOT Safe Routes to School Coordinator. This award is given to the individual who has served as a true champion of SRTS over the past year, making the extra effort to ensure a successful and effective SRTS program in his/her community. Going forward, this award will be known as the Nikki Tishler Memorial Award.
The Massachusetts Safe Routes to School (SRTS) Program, sponsored by the Massachusetts Department of Transportation and with funds from the Federal Highway Administration, promotes safer routes for students to get to school by fostering partnerships between advocacy groups, law enforcement, education leaders, and public health departments. The Program currently serves 804 schools in 206 communities across the Commonwealth.
For more information, visit the Massachusetts Safe Routes to School website.
Attendees
| First Name | Affiliation |
| --- | --- |
| Pompeo | Weston & Sampson (Peabody) |
| Christine | BETA Group, Inc. |
| Jay | City Point Partners, LLC |
| Stacy | Brennan Consulting, Inc. |
| Laureeen | Brennan Consulting, Inc. |
| Glenn | Big R Bridge (Corporate) |
| William | Green International Affiliates |
| Alvaro | Allen & Major Associates, Inc. |
| J M | Ocean State Signal Co. |
| Josh | MassDOT |
| Lyris | MassDOT |
| John | MassDOT Highway Division |
| Stephen | MassDOT District 3 |
| Robbin | MassDOT |
| Ethan | MassDOT |
| Christopher | MassDOT |
| Michael | MassDOT |
| Alex | MassDOT |
| Andrea | MassDOT |
| Alex | MassDOT |
| Thomas | MassDOT |
| Kimberly | MBTA |
| Courtney | MassDOT District 6 |
| Jaime | MBTA |
| Cassandra | MassDOT |
| Christian | MassDOT District 1 |
| Meghan | MassDOT Highway Division |
| Laura | MassDOT District 2 |
| Derek | MassDOT |
| Aniko | MBTA |
| Patricia | MassDOT |
| John | MassDOT |
| Walter | MassDOT Highway Division |
| chester | MassDOT HOC |
| Hasmukh | MassDOT |
| Behnam | MassDOT |
| Michael | MassDOT District 2 |
| Gabriel | MassDOT |
| Owen | MassDOT Aeronautics Division |
| Margo | MassDOT |
| Lori | MassDOT District 6 |
| Misrak | MassDOT District 4 |
| Paul | MassDOT |
| Andrew | MassDOT |
| Ashley | Unilock |
| Matthew | CDR Maguire, Inc. (CT) |
| Dave | HNTB Corporation |
| Michele | TransAction Associates |
| Donald | Private Citizen |
| Randall | BETA Group, Inc. |
| Karen | Merrimack Valley Planning Commission |
| Ted | Fuss & O'Neil Inc. (Springfield) |
| Joe | BETA Group, Inc. |
| Cindy | TransAction Associates |
| Kurt | MA Exec. Office of Energy & Env. Affairs |
| Erin | Town of Brookline: DPW |
| Linda | Fuss & O'Neill, Inc. |
| Dean | Weston & Sampson (Peabody) |
| Kien | BETA Group, Inc. |
| Fayssal | Nitsch Engineering |
| Wayne | Design Consultants, Inc. (Somerville) |
| Rekha | Fuss & O'Neill, Inc. |
| Joshua | Private Citizen |
| Tom | BETA Group, Inc. |
| Greg | BETA Group, Inc. |
| Jeff | BETA Group, Inc. |
| William | BETA Group, Inc. |
| Colleen | City Point Partners, LLC |
| Cheryl | TransAction Associates |
| Jeffrey | Weston & Sampson (Peabody) |
| Matt | BETA Group, Inc. |
| Matthew | Fuss & O'Neill, Inc. |
| Mary | Barr Foundation |
| Cynthia | Private Citizen |
| Rachael | Walking In Arlington |
| Corinne | Allen & Major Associates, Inc. |
| Laura | Watertown Community Development and Planning |
| Donald | Massachusetts Municipal Association (MMA) |
| Kaitlin | The Town of Maynard |
| Phineas | Massachusetts Budget and Policy Center |
| Jacki | Town of Andover |
| Catherine | City of Waltham |
| Chester | Town of Tewksbury |
| Matthew | City of Westfield |
| Latoya | Mashpee Wampanoag Tribe |
| Craig | Town of Stoughton |
| Todd | Town of Brookline |
| Bill | Town of Maynard |
| Glen | Town of Andover Police Department |
| Lisa | Town of Andover |
| Sam | Town of Framingham |
| Greg | Town of Easton |
| Marc | Town of Stoughton |
| Natasha | City of Lowell |