Caitlyn Butler
Assistant Professor
UMassAmherst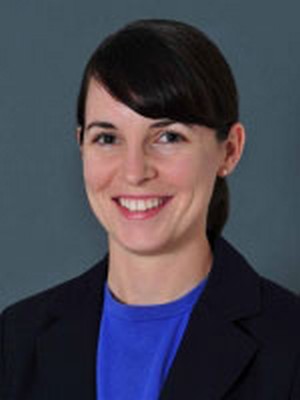 Featured Projects
Research and Background
Biofilm processes for water and wastewater treatment, Bioelectrochemical systems for removal of organic and oxidized contaminants, Microbial community structure and function of electrode-associated biofilms
Contact Info
Caitlyn Butler
cbutler@ecs.umass.edu
16B Marston Hall, College of Engineering, Department of Civil and Environmental Engineering, University of Massachusetts Amherst, 130 Natural Resources Road,
Amherst, Massachusetts 01003
Research in Action
Education
Ph.D. Civil Engineering, Notre Dame, 2010; B.S. Engineering Science, Smith College, 2004.
Publications
Peer-Reviewed Publications
Lau,B. and Butler, C.S., Censored at the Nanoscale, Frontiers in Microbiology, Accepted: February 2016
Srinivasan, V.*,Weinrich, J.*,Butler,C.S.,Nitrite-Accumulation in a Denitrifying Biocathode, Environmental Science: Water Research and Technology, 2016, 2, 344-352
Giddings, C. S. G.*, Nevin, K. P., Woodward, T., Lovley, D.R.,Butler,C.S Towards a scalable reactor design for microbial electrosynthesis: direct current power source and membrane-less reactor, Frontiers in Microbiology, In review: December 2014
Castro, C.J.*, Goodwill, J.E.*, Rogers, B., Henderson, M.,Butler, C.S, Deployment of the Microbial Fuel Cell Latrine in Ghana for Decentralized Sanitation, IWA Water Sanitation and Hygiene, Vol. 4, No. 4, November 2014
Gedalanga, P., Kotay, S.M, Sales, Butler, C.S., Goel, R., Mahendra, S., Novel Applications of Molecular Biological and Microscopic Tools in Environmental Engineering,Water Environment Research, Vol. 85, No. 10, October 2013
Mahendra, S., Gedalanga, P., Kotay, S.M., Torres, C. I., Butler, C.S., and Gael, R., Advancements in Molecular Techniques and Applications in Environmental Engineering: A Review, Water Environmental Research Vol. 84 No. 10 October 2012
Goel, R., Kotay, S.M., Butler, C.S., Torres, C.I., and Mahendra, S.,. Molecular Biological Methods in Environmental Engineering - A Review. "Water Environment Research", vol 83, number 10, 2011.
Butler, C., Clauwaert, P., Green, S., Verstraete, W., Nerenberg, R., BioelectrochemicalPerchlorate Reduction in a Microbial Fuel Cell, Environmental Science and Technology, Vol. 44, No. 12, May 2010
Butler, C.. and Nerenberg, R., Microbial Fuel Cell Performance and Microbial Ecologyas a function of Air-Cathode Materials, Applied Microbiology and Biotechnology, Vol. 86, No. 5, April 2010
Clauwaert, P., Desloover, J., Shea, C., Nerenberg, R., Boon, N., Verstraete, W. Enhanced Nitrogen Removal in Bio-Electrochemical Systems by pH control, Biotechnology Letters Vol. 31, No 6, June 2009
Kulkarni, M., Green, S. K., Shea, C., and Queeney, K. T., The role of etching in aqueous oxidation of hydrogen-terminated Si(100), Journal of Physical Chemistry C, Vol. 113, No. 23, June 2009
Shea, C., Clauwaert, P., Verstraete, W., Nerenberg, R., Adapting a denitrifying biocathodefor perchlorate reduction, Water, Science and Technology., Vol 58, No 10, November 2008
Seders, L., Shea, C., Lemmon, M., Maurice, P., Talley J., LakeNet: An Integrated Sensor Network for Environmental Sensing in Lakes. Environmental Engineering and Science, Vol. 24, No. 2, March 2007
Voss S., Horton N., Woodbury R., Shea, C., Smith A., Sources of variability in re ectance measurements on normal human ears. Huber A. and Eiber A., editor. Proceedings of the 4TH International Symposium on Middle Ear Mechanics in Research and Otology; 2006 July 27-30, Zurich, Switzerland. World Scienti c; 2007. p. 78-86.
Selected Conference Proceedings
Weinrich, J.and Butler, C.S., Determining Kinetic Parameters Of A Nitrite-accumulating,Denitrifying, Cathodeoxidizing Biofilm, Water Environment Federation Technical Exhibition and Conference, New Orleans,LA- October 2014
Bekki, J.M., Dalrymple,O.,and Butler,C.S.,A Mastery-Based Learning Approach for Undergraduate Engineering Programs, Frontiers in Education, Seattle,WA, October 2012
Butler, C. and Nerenberg, R., Effects of Oxygen Crossover on Layered, Microbial FuelCell Assemblies. International Water Association/Water Environment Federation Bio lm Reactor Technology Conference, Portland, Oregon, August 2010
Butler C., Clauwaert, P., Verstraete, W., and Nerenberg, R, Bioelectrochemical Perchlo-rate Reduction in a Microbial Fuel Cell: Optimizing Cathode pH and Cathode Potential. IWA/WEF Bio lm Reactor Technology Conference, Portland, Oregon, August 2010
Brown, D.*, Burns, B.*, Cradic, Z.*, Petrakovitz, D.*, Reeg, M.*, Santos, N.*, and Butler, C., Optimization of Drinking Water Solutions for Rural Villages in Ghana, Africa, CapstoneDesign Conference, Boulder, CO, June 2010
Butler, C. and Nerenberg, R., Effects of Oxygen Crossover on Microbial Fuel Cell Per-formance and Microbial Community Structure. International Water Association Leading Edge Technology, - Phoenix, AZ, June 2010
Butler C., Clauwaert, P., Verstraete, W., and Nerenberg, R, Optimizing Cathode pHand Cathode Potential for Bioelectrochemical Perchlorate Reduction. International Water Association Leading Edge Technology, - Phoenix, AZ, June 2010
Shea, C. and Nerenberg, R., BOD and Total Nitrogen Removal from Wastewater UsingMicrobial Fuel Cells. Water Environment Federation Nutrient Removal Conference, Wash-ington D.C. - June 2009 Fuel Cells
Shea, C. and Nerenberg, R., A High-Performance, Air-Cathode Microbial Fuel Cell withPotential for Retro tting into Activated Sludge Plants. Water Environment Federation Technical Exhibition and Conference, Chicago, IL - October 2008
Shea, C. and Nerenberg, R., Performance of Air-Cathode Microbial Fuel Cells with Layered-Electrode Assemblies. International Water Association Young Water Professionals Confer-ence, Berkeley, CA - July 2008
Shea, C. and Nerenberg, R. Air-cathode microbial fuel cells with layered-electrode assem-blies. International Water Association Leading Edge Technologies, Zurich, Switzerland - June 2008
Shea, C. and Nerenberg, R. Adapting a Denitrifying Biocathode for Perchlorate Reduction.International Water Association Leading Edge Technologies, Zurich, Switzerland - June 2008
Shea, C. and Nerenberg, R. Air-cathode microbial fuel cells with layered-electrode assem-blies. Microbial Fuel Cells - First International Symposium, Pennsylvania State University, State College, PA - May 2008
Shea, C. and Nerenberg, R. Hollow-Fiber Membrane Microbial Fuel Cells: Retro tting Ac-tivated Sludge for Direct Production of Electricity. Indiana Water Environment Federation Annual Conference, Indianapolis, IN - November 2007
McStay, F., Talley, J.W., Shea, C. A. Landfarming as a Bioremediation Techniques for Oil Contaminated Lands in Iraq. National Association for Environmental Professionals Annual Conference (NAEP), Alexandria, VA - April, 2005
Strom, S., Ja ray, S., Johnson, C., McCartney, J., Rossmeier, K., Shea, C., Zhang, M., Changes in Spatial Perception as a Result of Changes in Gravity, Society of Women Engi-neers National Conference, Birmingham, AL - 2003
Full Curriculum Vitae